Activities and Programs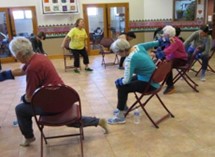 A variety of stimulating activities are available at our senior centers, including billiards, bingo, brain gym, bridge, cards, ceramics, consumer education, craft projects, dances with live music, day trips, drawing, Enhance Fitness, guitar classes, history lectures, jewelry making, knitting, line dancing, Nia Technique movement, painting, quilting, sewing, sing-along, Tai' chi, wood carving, yoga, and Zumba.
Current Activity Schedule at the MEG
All seniors are required to wear a mask
Billiards Monday-Friday 8:00 a.m. - 4:30 p.m.
Fitness Monday-Friday 8:00 a.m.- 4:30 p.m.
Bingo Wednesdays 1:00 - 3:00 p.m.
Movie Every 3rd Tuesday of the month
Special Events & Presentations
Many special events are coordinated each year. Senior centers host craft/bake sales, movie days, cookouts, birthday celebrations, holiday events, dances, free emergency preparedness and legal seminars, Town Hall Meetings, consumer education workshops, and many more presentations on a variety of topics and issues.
Winter Dance featuring Bandalegre
The Mary Esther Gonzales Senior Center will host the Winter Dance on Thursday, January 5th, 2023, from 1:00-4:00 p.m. The Dance will be held at the Fraternal Order of the Eagles Club (833 Early St.) Admission is $2.00, and light refreshments will be served. Masks will be required. Transportation for rides home from the Fraternal Order of the Eagles Club will be available.
---
Contact information:
Albert Chavez, Activities Program Coordinator for Mary Esther Gonzales and Ventana de Vida Senior Centers, 505-955-4715 or wachavez@santafenm.gov
Cristina Villa, Activities Program Coordinator for Luisa, Pasatiempo, and Villa Consuelo Senior Centers, 505-955-4725 or cavilla@santafenm.gov