Renee Villarreal
District 1 Councilor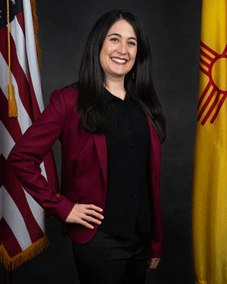 In a four-way candidate race for an open seat, Renee Villarreal was elected to the City Council in March 2016. She is a native of Santa Fe and a multi-generational New Mexican and is deeply committed to community work centered on equity, social and gender justice, and self-determination. She has a Master's Degree in Community and Regional Planning from the University of New Mexico and worked as a Community Planner for Santa Fe County for over seven years, advocating for traditional and indigenous land-based communities.
Renee also has extensive experience working in the nonprofit and philanthropic sector, serving in a program director capacity for over seven years, and has a strong sense of statewide and municipal issues affecting underserved and marginalized communities. Currently, she works as a Program Co-Director for NewMexicoWomen.Org, the only program and fund in New Mexico that works to advance opportunities for women and girls statewide.
Since being elected, Renee has sponsored and co-sponsored policy measures and worked on community issues with an eye toward social equity, inclusivity, government transparency, and fiscal accountability.
---
505-955-2345
rdvillarreal@santafenm.gov
200 Lincoln Ave
P.O. Box 909
Santa Fe, NM 87504