Renee Villarreal
District 1 Councilor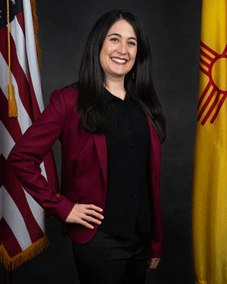 Renee Villarreal was elected to her first term on the City Council in 2016 in a four-way candidate race for an open seat. She was re-elected to a second, 4-year term in an unopposed race in 2020. Renee is a native of Santa Fe and a multi-generational New Mexican and is deeply committed to community work centered on equity and social and gender justice. She holds a Master's Degree in Community and Regional Planning from the University of New Mexico and worked as a Community Planner for Santa Fe County for over seven years, advocating for traditional and indigenous land-based communities and making long-range smart growth management planning decisions for the County. She also served on the City's Planning Commission from 2010-2016.
Renee has extensive experience working in the nonprofit and philanthropic sector, serving in a program director capacity for over 12 years. She has a strong sense of statewide and municipal issues affecting underserved and marginalized communities. Currently, she also works as Program Co-Director for NewMexicoWomen.Org, a statewide women's foundation that works to advance opportunities for women and girls in New Mexico.
Since being elected, Renee has sponsored and co-sponsored policy measures and worked on community issues with an eye toward social and gender equity, inclusivity, government transparency, and fiscal accountability.
Councilor Renee Villarreal
200 Lincoln Ave
P.O. Box 909
Santa Fe, NM 87504