Transforming an Aging Suburban Highway into an Urban Boulevard/Mixed-Use District
Originally designed in the late 1950s as a 2-lane "bypass highway" connecting Cerrillos Road and Old Pecos Trail, St. Michael's Drive was widened in the mid-1970s. Today St. Michael's Drive is one of the city's busiest streets with seven lanes of traffic (six through lanes and a center turn lane) in the 1¼ miles between St. Francis Drive and Cerrillos Road. It handles approximately 25,000-30,000 vehicles per day. The adjoining, suburban-style land development pattern includes a combination of shopping centers and older car dealerships, marked by large expanses of parking lots along the road edge and large, aging, big-box buildings set back from the road.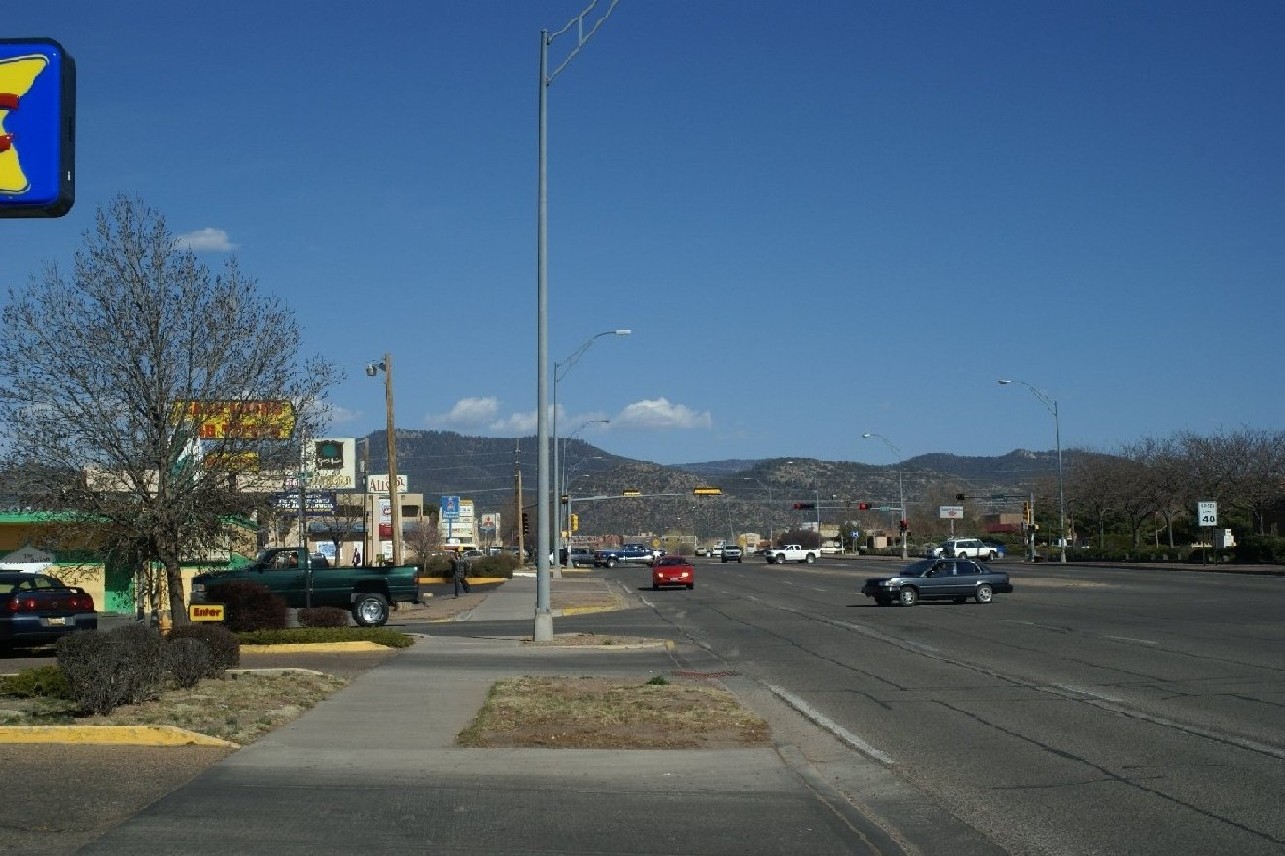 Envisioning a Different Future
St. Michael's Boulevard could be the heart of a new, centrally-located district. St. Michael's has the potential to be multi-modal with transit connections between the Santa Fe Trails bus system and a local train that extends through the heart of this district. This transformed boulevard would be lined with new office, retail, and arts-related spaces, accompanied by enjoyable pedestrian walkways connecting new living areas of higher density, more affordable residential units for rent and ownership. Finally, St. Michael's Boulevard could be a showcase for public art, reflecting Santa Fe's world-renown reputation as a center for the arts.
St. Michael's Drive: Visions of the Future
The City of Santa Fe asked seven urban designers to create their vision of what St. Michael's Drive could be including the roadway design and land use designs/options for the adjoining areas.
View their designs at St. Michael's Drive: Visions of the Future.

Re-development/design scenarios might include a variety of inventive design options and possibly include all or some of the following design criteria:
mixed-use buildings and settings
residential buildings – medium to high densities
public "congregation" areas,
street trees or continuous rows of trees
expanded median area for public park/walkway
transportation options
road diet (fewer traffic lanes)
complete streets format
pedestrian options and amenities
pedestrian-friendly environment
public art
bringing buildings up to the street
expanded sidewalk areas
parks
plazas
and imaginative ideas of life on St Michael's Boulevard in the 21st century.
….They were encouraged to let their creativity flow!