To Our Residents and Our Visitors!
Safe. Open. Together.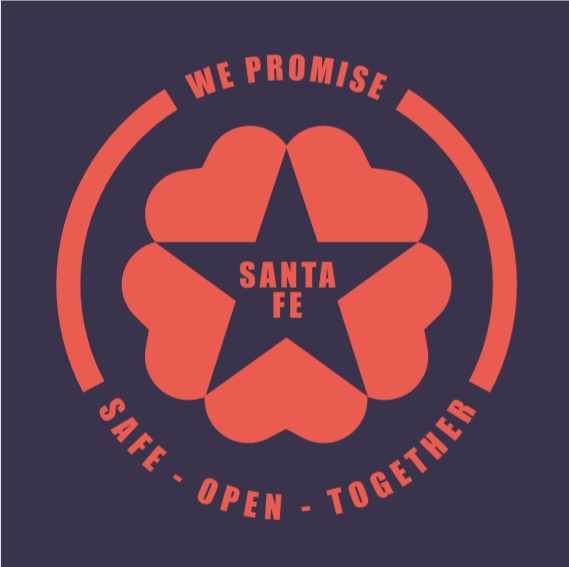 This is the Santa Fe Promise:
We will stay safe ourselves and keep each other safe as we combat the spread of Covid-19 in our community.
We will open our city and re-engage with our families, our shops, stores and restaurants—re-engage with the fun!—that makes Santa Fe such a special place to live, work, visit and thrive.
And we will do this together. Safe together. Open together. All together.
So please remember the basic code of conduct that is the heart of the Santa Fe Promise:
I promise to act as if I carry the coronavirus.
I promise to maintain social distancing of at least six feet.
I promise to wear a face covering, wash my hands, use sanitizer.
I promise to buy from local businesses that also make this promise.
I promise to practice patience, compassion, empathy, connection,respect and love.
The Santa Fe Promise is who we are and how we live. It's how we make it through these difficult times. It's how we care about each other and about our community.
I know Santa Fe. I know we'll come out of this time of challenge stronger and more united than ever, resilient and confident in our ability to stand together.
We'll come through this safe, open, and together.
Thank you!
Alan Webber
Mayor
---
---
---
Business Reopening:
For a free mask, you can visit the following locations:
Plaza Visitor Information Center


Paso de Luz
66 E. San Francisco Street, Suite 3
Santa Fe, NM 87501
800-777-2489 / 505-955-6215

Santa Fe Libraries


During Curbside Service

Tuesday, Wednesday, Thursday and Saturday from 12 (noon) – 5:30 p.m.

Santa Fe Chamber of Commerce


1644 St Michaels Dr, Santa Fe, NM 8750

Monday – Friday from 10 am – 2 pm
A Nuestros Residentes y Nuestros Visitantes!
Seguro. Abierto. Juntos.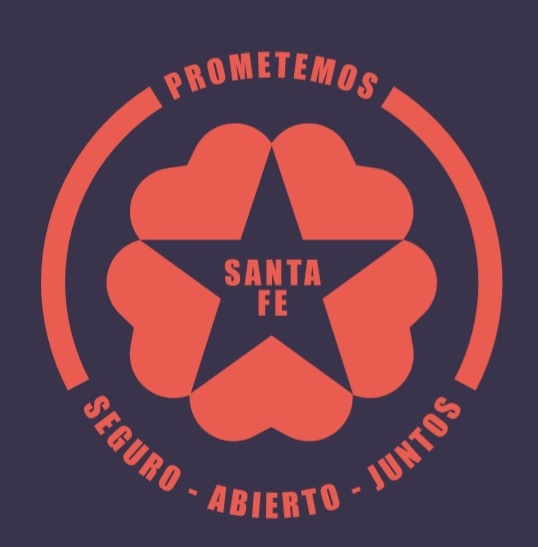 Este es la Promesa de Santa Fe:
Nos mantendremos a salvo y mantendremos los demás a salvo mientras combatimos el crecimiento de Covid-19 en nuestra comunidad.
Abriremos nuestra ciudad y volveremos a reencontrarnos con nuestras familias, nuestras tiendas, negocios y restaurantes, ¡reencontrarnos con la diversión!— que hace de Santa Fe un lugar tan especial para vivir, trabajar, visitar y prosperar. Y haremos esto juntos. A salvo juntos. Abriendo juntos. Todos juntos.
Así que por favor recuerden el código de conducta básico que está al corazón de la Promesa de Santa Fe:
Prometo comportarme como si yo llevara el coronavirus.
Prometo mantener una distancia social de al menos seis pies.
Prometo usar una cobertura facial, lavarme las manos, usar desinfectante.
Prometo comprar de empresas locales que también hacen esta promesa.
Prometo practicar paciencia, compasión, empatía, conexión, respeto y amor.
La promesa de Santa Fe es quiénes somos y cómo vivimos. Así es como logramos superar estos tiempos difíciles. Es cómo nos queremos unos a otros y a nuestra comunidad.
Conozco Santa Fe. Sé que saldremos de este momento de desafío más fuertes y más unidos que nunca, resistentes y con confianza en nuestra capacidad de estar unidos.
Atravesaremos esto seguros, abiertos y juntos.
¡Gracias!
Alan Webber
Alcalde