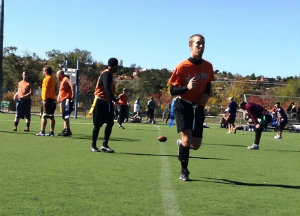 Bicentennial / Alto Park, 1121 Alto Street View Map
Amenities
Alto Park, a linear park alongside the Santa Fe River, offers both passive and active uses with close proximity to community amenities such as the Bicentennial Outdoor Swimming Pool (summer only), Mary Esther Gonzales Senior Center, the nearby Aspen Community Magnet School and NDI NM Dance Barns. With mature shade trees and connections to the regional Santa Fe River trail system, it is well-connected to local neighborhoods.
15.92 Acres / 5.1 Acres (Pool) - 1 Shelter With Two Benches (In Playground Area) - Paved Prescription Trail - Play Equipment - 8 Picnic Tables (All 8 Under Mature Shade Trees) - Basketball Courts - 5 Tennis Courts - 3 Baseball/Soccer/Football Fields - Restroom Facilities - Concession Stand - Meeting Room - 2 Parking Areas
Bicentennial Outdoor Swimming Pool, 1121 Alto Street
The swimming pool is open from late May through Labor Day.
---
Events or activities with 25 or more attendees require a reservation.