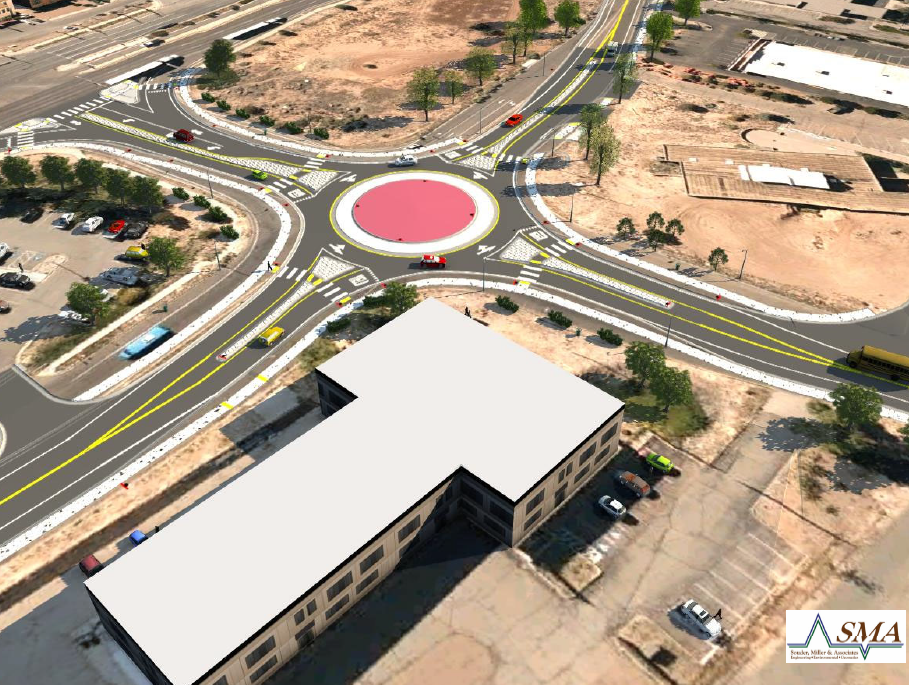 The City of Santa Fe's Public Works Department invites community members to the east/west intersection of Camino Entrada* to celebrate the completion of the new roundabout at 10:00 a.m. on Friday, October 28. After a ribbon-cutting celebration with project stakeholders, City officials will take a spin around the completed project in two City hybrid/electric vehicles.
The City-funded roundabout project consisted of the following improvements: reconstruction of the concrete curb and gutter, full pavement reconstruction, permanent signs and striping, bicycle and pedestrian improvements, roundabout lighting, and signal improvement. The roundabout is expected to increase safety and enhance service with the eventual addition of the Southside Transit Center. Visit the interactive Public Works Capital Projects Dashboard to learn more about the many projects taking shape to improve Santa Fe's infrastructure!
Thanks to community members for their patience during the construction process. As a reminder, residents can receive information and updates about City road construction projects by signing up for the City's Orange Barrel Report.
Camino Entrada Roundabout project partners and contributors: City of Santa Fe Public Works Department, NV5, Souder, Miller & Associates, EMCO of Santa Fe, Santa Fe Metropolitan Planning Organization, City of Santa Fe Bicycle and Pedestrian Advisory Committee, City of Santa Fe Public Utilities Department, City of Santa Fe ADA Office, and City of Santa Fe Police and Fire Departments.
---
*The Camino Entrada roundabout entrance off of Cerrillos Rd. will remain closed until the event has concluded. Event attendees should approach from the intersection of Airport Road and Camino Entrada, or follow detour signs on Cerrillos Road to enter via the Cristo's Road intersection.
Parking is available at 2515 Camino Entrada (Police Headquarters), 2511 Camino Entrada (Municipal Court), or the lot at 2521 Camino Entrada.