~5,000 Residential Units in Development Pipeline
June 2, 2021
Building Boom Generates New Housing, Jobs, Tax Revenues
Affordable Housing Inventory Increasing; Growth Management Planning Study to Preserve
Quality of Life, Ensure Sustainability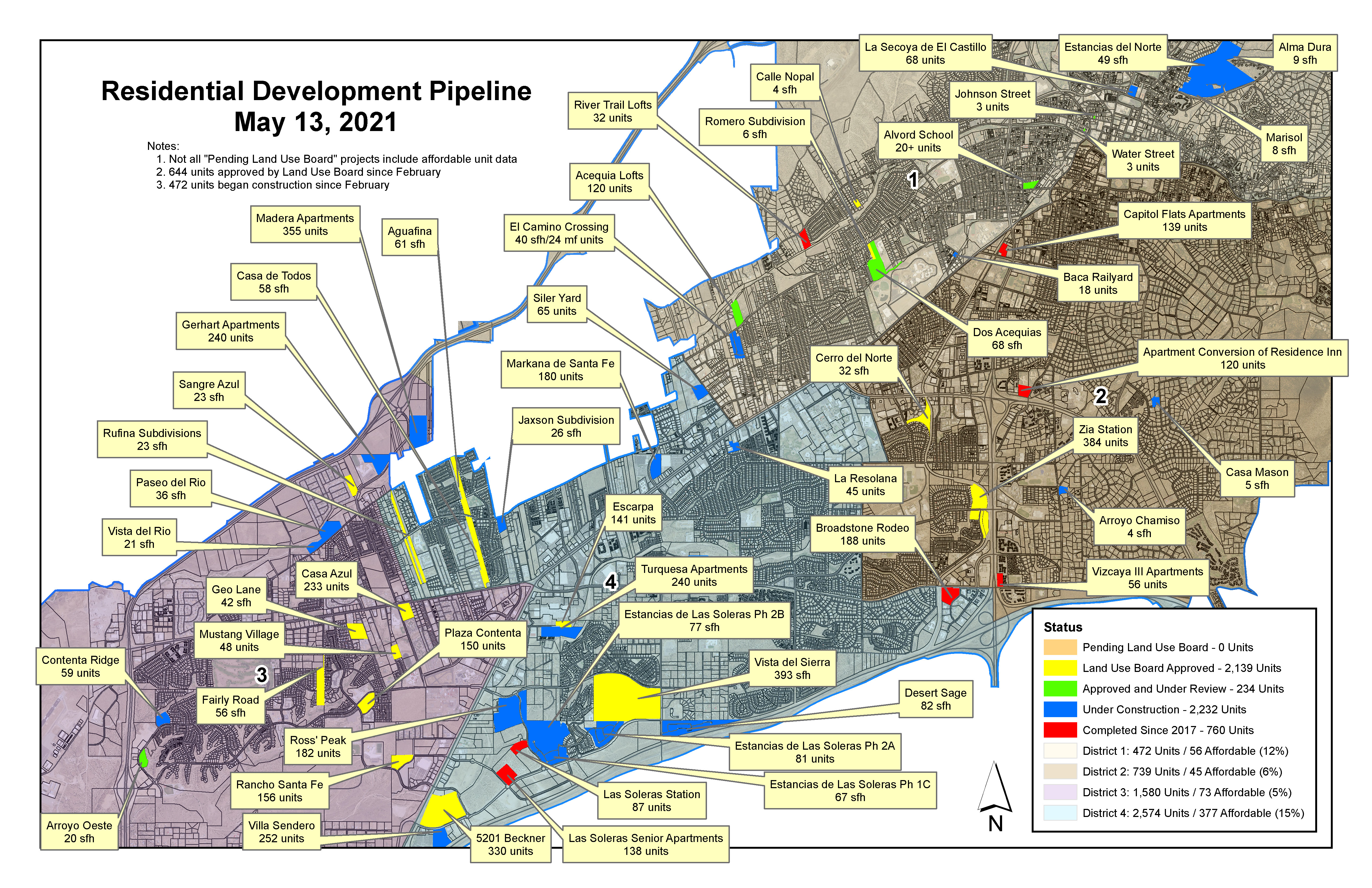 JUNE 2, 2021 -- Despite the economic instability of the pandemic era, Santa Fe is experiencing an extended building boom with record numbers of development projects planned, under construction, or recently completed.
Planning and Land Use Department Director Eli Isaacson reports that roughly 5,000 residential units are either under construction or in the development pipeline, in addition to 760 completed since 2019. The department is issuing an average of around 500 construction permits and is conducting some 2,000 construction inspections per month.
The recent year-over-year (YOY) increases in monthly taxable gross receipts are attributable in part to the robust activity in our local construction industry. Construction receipts in March were up 15.7 percent/$5.7 million over last March, and $6.1 million more than March 2019.
"This is a level of housing production the city hasn't seen in a long time," says Isaacson. "We are making significant impact in addressing the housing needs of the community."
Many of these permits are for single- and multi-family housing projects, with a concentration in District 4 (2,574), where there is most land available that's suitable for development. It is followed by District 3 (1580), District 2 (739), and District 1 (472).
Alexandra Ladd, Director of the Office of Affordable Housing, says there is more affordable housing inventory coming along with the building boom. There are also new funding sources to go along with the $1.8 million that was put into the Affordable Housing Trust Fund recently, and the $3 million budget that is guaranteed to the fund in the new fiscal year.
Ladd projects that the increases in new housing across all price points will eventually drive prices down into the affordable range for people who are currently priced out of the market or burdened by unsustainable housing costs.
"There's a supply-and-demand component," says Ladd. "More supply will improve the range of choices, softening costs throughout the market, and most importantly, increasing access to opportunity for those who most need it."
"We are still making up for years and years where we didn't see enough housing built," says Mayor Alan Webber. "We know that people want their kids to be able to live here, we want our teachers, nurses and first responders to be able to live here. The first priority is for affordable housing for the people of Santa Fe."
While the housing inventory increases, the City is moving forward with a Growth Management Planning Study that will look for opportunities to connect growth to infrastructure, jobs, transit, and amenities. The mission is to support overall quality of life while conserving essential natural resources as Santa Fe strives to become the most sustainable city in the country.