Governing Body Hearing and Vote Rescheduled for November 30
Following unanimous approval of the Midtown Master Plan by the Planning Commission on October 20, the comprehensive Midtown Redevelopment Plans will come under further review in November.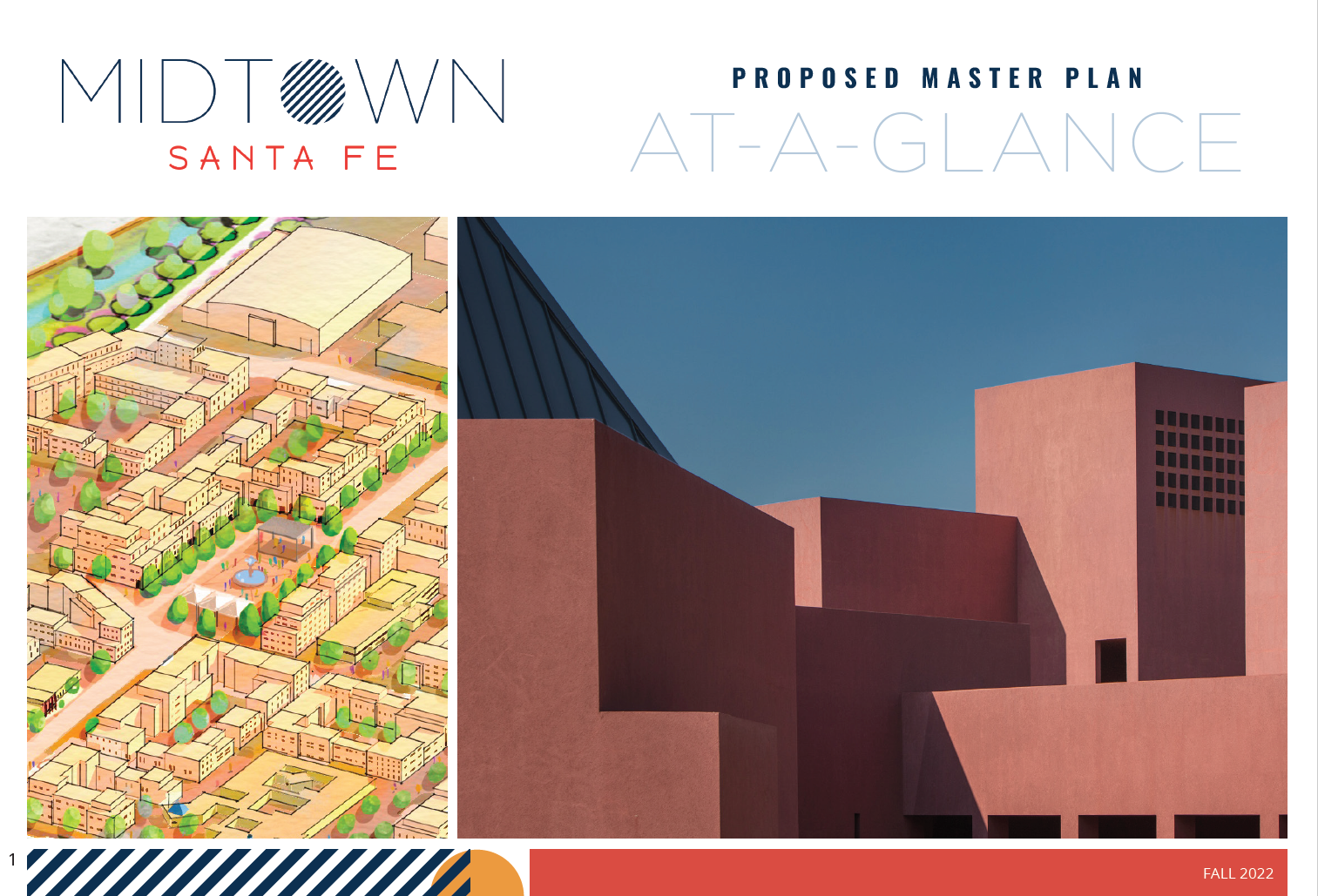 The review process is expected to culminate in a hearing and vote scheduled for a Governing Body session on November 30. This has been rescheduled from November 9 to accommodate conditions placed on approval by the Planning Commission.
"Midtown is moving forward!" says Rich Brown, the Director of Community and Economic Development who supervises the planning, applications and redevelopment process. "We are grateful to the Land Use Department and the Planning Commission for their thorough consideration and valuable input. I'm confident that the Governing Body, which set our community and redevelopment plans into motion with an approved resolution this past spring, will endorse them as well. The excitement is growing as we get moving with the redevelopment of a new city center for Santa Fe."
Next Steps:
November 9: Governing Body to hear presentation introducing the Midtown Community Development Plan component of the Midtown Redevelopment Plans.
November 16: Community Development Commission to hear presentation of Midtown Community Development Plan.
November 28: City Council Finance Committee meeting on Midtown Redevelopment Plans – return on investment and public policy and community benefits.
November 30: Governing Body hearing and scheduled vote on Midtown Redevelopment Plans: Master Plan and Community Development Plan.
Members of the public may find details of attendance, auditing, and participation in the upcoming meetings closer to their dates at: santafe.primegov.com/public/portal.
---
BACKGROUND:
The Midtown Redevelopment Plans are comprised of the Master Plan and the Community Development Plan. They are the culmination of a four-year planning (from 2018 to 2022) effort led by City staff and an interdisciplinary consultant team, and involving community members and stakeholders to develop a vision for the Midtown Site. The plan is focused on the elements of sustainable development, which includes social equity, economic prosperity, culture and history, and the environment and natural resources. The plans respond to direction given by the Governing Body in Resolution 2022-12, "Midtown Moving Forward."
| | |
| --- | --- |
| | |
| The Master Plan lays out land uses and an infrastructure framework to enable development and future investment. It will guide the type of development the community wants, and includes guidelines for infrastructure, connectivity and transportation, density and open space, and building design. | The companion Community Development Plan identifies community benefit expectations to be delivered as development occurs. It is a policy-driven document to address housing choice and affordability, jobs and training options, access to employment, community arts and cultural heritage. |
The Midtown Redevelopment Plans are designed to achieve:

Over 1,000 units of market-rate and affordable housing;
New enterprises and career opportunities;
Expanded film, TV and digital production facilities;
Spaces for performances, visual arts and other cultural events;
An education hub with a state-of-the art central library and community center;
Multi-modal transportation; and
Recreation facilities and green spaces
Download an overview of the Midtown Redevelopment Plans here.
The City encourages all Santa Feans to keep abreast of the Midtown Moving Forward process on the project website: