The Santa Fe Community Gallery

---
Notice: The Community Gallery is Temporarily Closed
The Community Gallery is temporarily closed while we make some improvements to the look and experience of our space! We're excited to share the refresh with you once it is complete. We will also be seeking applications for a new position, Community Gallery Manager, so check back soon for the job posting and keep us in mind if you know someone who would be a good fit for the role!
We apologize for any inconvenience and hope to see you for our next exhibit: Exchange Rate – The Art of Currency (dates to be announced).
Where is the Community Gallery?
---
Click Here to learn about our current exhibit.
Physical address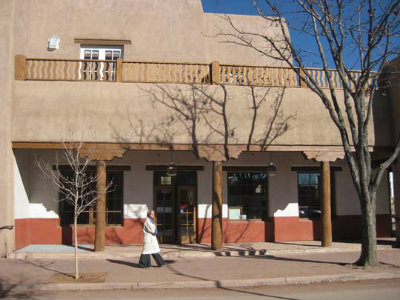 201 West Marcy Street (at the intersection of Marcy and Sheridan)
Santa Fe, NM 87501
Mailing address
PO Box 909
Santa Fe, NM 87504-0909
Hours of Operation
Wednesday through Friday
10 a.m. to 3 p.m.
Click here for a clip about The Community Gallery and our tenth-anniversary exhibit.
What is the Community Gallery?
---
The City of Santa Fe Arts Commission's Community Gallery— through thoughtful and creative programming— offers inspiring exhibitions for the public, educational and professional development for local artists/artisans, and exciting activities for the community. High-quality art is for sale at all price levels.
The Community Gallery promotes, sells, and exhibits the work of New Mexico artists and artisans, emphasizing Santa Fe through exhibitions, professional training, and community involvement in the arts. Gallery programming provides a range of services, exhibitions, and activities that engage the public as well as support the efforts of local artists/artisans. As a result, the Gallery is a hub for viewing and exhibiting exciting artworks and brings art to the community.
How Do Artists Get Involved and Participate?
---
The City of Santa Fe Arts Commission, in a concerted effort to expand services to the local arts community, welcomes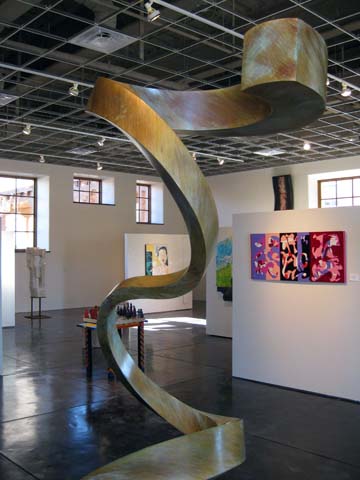 artists and artisans of all media to participate in the exhibits and programming of the Community Gallery.
The Community Gallery features themed exhibitions that run for two to three-month intervals and display the full breadth and depth of the art produced by local artists and artisans in Santa Fe and New Mexico. Themed exhibitions ensure that contemporary and traditional work in all media is shown, creating more varied, interesting, and vital exhibits.
Calls for Artists for upcoming exhibits are posted here on the Gallery's web pages with a description of the exhibit theme, the deadline for applying, and instructions on how to apply. New calls are also sent out by email to those artists who have signed up for email notices. By clicking here, you may subscribe to our email notices about Calls for Artists, new exhibit openings, public art, and other artist opportunities.
Exhibitors will be selected based on the quality of their work, their contribution to the full breadth of the exhibit media, and the appropriateness of their work to the theme (if applicable).
How Does the Community Gallery Operate?
---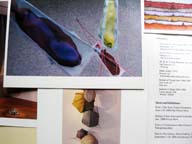 All work in the Community Gallery is for sale. The representing Gallery receives 70% of sales (to be split with the artist according to their agreement), and the City of Santa Fe receives 30%. Artists not represented by a gallery receive 60% of all sales, and the City of Santa Fe keeps 40%. Artists who have exclusive representation contracts participate through their galleries.
Community-wide call for exhibit theme ideas for the Community Gallery
---
The City of Santa Fe Arts Commission Community Gallery seeks to be an engaging, dynamic showcase for local art. The Gallery brings art to the community. In keeping with this spirit, the Gallery accepts theme proposal ideas for upcoming exhibits, allowing Santa Feans a hands-on role in developing exciting exhibits. Exhibits are currently being planned for summer 2019 and beyond. Theme ideas are accepted throughout the year. For more information, contact Rod Lambert, Community Gallery Manager, at rdlambert@santafenm.gov or call 505-955-6705.
Community Gallery exhibits feature approximately 30 artists each. The Gallery does not present one-person or small-group exhibits. All artists are selected through an open call to artists and juried by a selection panel. Theme proposals are evaluated based on five criteria, with the most successful proposals addressing three to five factors.
How Can I Contribute to Exhibit Theme Ideas?
---
The Community Gallery solicits exhibit theme suggestions from the community to provide thought-provoking and exciting exhibits. Exhibition themes are approved by the Community Gallery Advisory Committee and the Arts Commission and will be evaluated and selected based on the following criteria: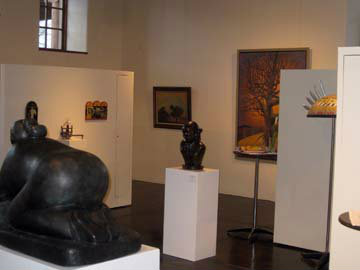 1) Coordinate with significant local cultural or social events.
Does the exhibit take place during a time that synergizes with other local events, enhancing the experience of both residents and visitors? Please note that events do not need to be arts-specific—examples: Indian Market, Spanish Market, Opera Season, Black History Month, etc.
2) Allow local artists/artisans to expand their professional exhibition experience and enrich professional disciplines by meeting press requirements, interacting with the public, performing demonstrations, assisting in workshops, etc.
For some artists who participate in the Community Gallery, the opportunity to exhibit their work is a first-time experience. This includes creating work and gaining important skills in considering installation, entering contracts, and advertising/promotion. The Community Gallery aims to offer professional experiences for artists in all stages of their careers.
3) Reference the continuum of the society and culture of Santa Fe and New Mexico.
Does the exhibit serve to illustrate the unique social and cultural qualities of Santa Fe/New Mexico? Does it have the potential to educate the community on contemporary social issues via juxtaposition with historical trends? Exhibits that compare and contrast ancient and recent history are encouraged.
4) Offer educational opportunities for the community to better understand local art/artists, artistic processes, or art history.
What opportunities does the exhibit proposal offer for educational programming components? As a function of exhibits, free programming opportunities for workshops, lectures, panel discussions, and demonstrations are held in the Gallery to illuminate the exhibit's content.
5) Collaborate with a minimum of two local community organizations to offer the widest inclusion of the public and create a synergistic forum for advancing the arts.
The Gallery strives to collaborate with local organizations within and outside the arts. An exhibit theme has a greater impact if it leverages the resources and insight of sometimes unlikely partners. A second or third opinion in developing a theme idea often results in a more thoughtful and successful exhibit.

One goal of the Gallery is to offer the broadest inclusion for all artists and involve a large portion of the local population by offering more than the display of artwork. Exhibitions feature programs and events that invite a varied and diverse audience. Interested parties are encouraged to submit their theme ideas using the Gallery Exhibit Proposal Form.
POP UP Exhibits
---
The Gallery offers the opportunity for local organizations to host POP UP Exhibits in the Community Gallery space for two-week periods at various times during the year. The primary Gallery Exhibit schedule limits these spots. However, between exhibits, there is an availability of space for displays from organizations in the community. Interested parties are encouraged to submit theme ideas following the terms of the POP UP Exhibit Guidelines.