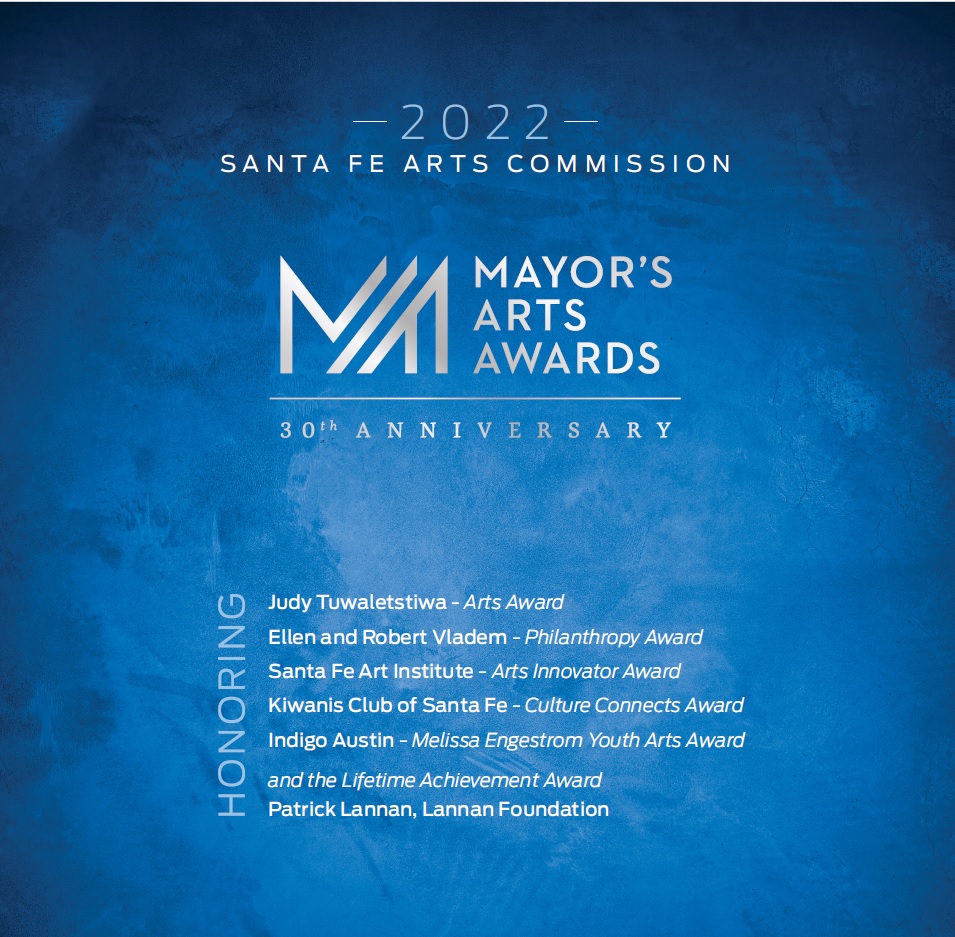 The City of Santa Fe Announces the 30th Annual Mayor's Arts Awards.
Mayor Alan Webber, the City of Santa Fe's Arts & Culture Department, and the Santa Fe Arts Commission are pleased to announce the recipients of the 2022 Mayor's Awards for Excellence in the Arts:
Award Recipients
Arts: Judy Tuwaletstiwa
Philanthropy: Ellen and Robert Vladem
Arts Innovator: Santa Fe Art Institute
Culture Connects: Kiwanis Club of Santa Fe
Melissa Engestrom Youth Artist Award: Indigo Austin
Lifetime Achievement Award: Patrick Lannan (1938-2022) and the Lannan Foundation
The Mayor's Arts Awards acknowledge individuals and active organizations who have significantly contributed to arts and culture in Santa Fe. Nominations from the community are collected each year for consideration, and the awards have honored a remarkable list of artists, individuals, organizations, and businesses over the years.
"Santa Fe is the capital of arts and culture—it's who we have always been and who we are. These awards celebrate not only the remarkable people who currently represent our city's commitment to art but also acknowledge decades of outstanding artistic expression," said Mayor Alan Webber. "Everyone in Santa Fe is part of this great tradition, and everyone is welcome at this great awards ceremony."
The Mayor's Awards for Excellence in the Arts were established in 1989, with the first event held in 1991. This year's 30th-anniversary celebration will recognize stellar honorees for 2022, including the first-ever Lifetime Achievement Award, as well as over 150 previous recipients of the award who have added to the rich legacy of the people and organizations who help make this city an internationally-known cultural magnet and focal point of creativity.
2022 Mayor's Arts Award Recipients
---
Arts: Judy Tuwaletstiwa
Judy Tuwaletstiwa's work is somewhere between fire and water: beautiful, scientific, and broadly conceptual. Her work has been introduced and shown in numerous galleries, as well as local and national venues. She has won multiple awards and is an important voice in the Santa Fe arts community. Translucent yet grounded in the chemistry of color, sand, heat, and light, her exhibits are a beautiful collaboration between art and science, melding the two in a way that draws in observers of her work.
Philanthropy: Ellen and Robert Vladem
In addition to their generous lead gift for the New Mexico Museum of Art's Vladem Contemporary, a new cultural venue in the Santa Fe Railyard, Ellen and Bob have provided major support for the Santa Fe Opera and have served on numerous boards and as volunteers at various arts organizations, including The Food Depot and the Georgia O'Keeffe Museum. Their philanthropy and community engagement illustrate their commitment to enriching the cultural life of Santa Fe and making a difference in the artistic vitality of the city.
Arts Innovator: The Santa Fe Arts Institute
The Santa Fe Art Institute (SFAI) is an incubator for innovative projects concerning critical social issues with the potential to facilitate change on micro and macro social scales. Through their programming, SFAI encourages and supports artistic endeavors centering on social justice movements and extends the linkages between the arts and sciences by connecting local knowledge with global actions. They continued their forward-thinking purpose by exploring the topic of climate change this year. SFAI continues to support community engagement at the Midtown site and has created a culture of visible diversity regarding board representation and the involvement of the community in their residency programs.
Culture Connects: Kiwanis Club of Santa Fe
The mission of the Santa Fe Kiwanis Club is to help the children in our community dream, grow, learn, succeed, and thrive. At Kiwanis's annual signature Zozobra celebration, children are Zozobra's most loyal fans, and youth under ten years old enjoy free admission to the event. Santa Fe is renowned for its arts scene, and the Kiwanis Club discovers young talent through their Student Art Contest and Zozobra Art Exhibit, as well as during ZozoFest and the Burning event, where young musicians and dancers perform. Local schools, including Piñon Elementary, have lesson plans about Zozobra, and hundreds of student drawings are displayed in the art show. Kiwanis members speak on Zozobra's connection to Santa Fe history at local schools, including programs for at-risk youth. The Zozobra event's National Anthem performer has often been under 18 years old, and New Mexico Ballet School dancers portray the Zozobra "gloomies" during the Burning.
Melissa Engestrom Youth Artist Award: Indigo Austin
Indigo Austin demonstrates a commitment to performance and expression of art by developing her athletic and artistic skills at Wise Fool, where she is also a teacher. Inspired by the polarization of our society during the COVID-19 pandemic, she created an impressive video embodying her dedicated initiative and creative approach to a tough and complex subject.
Lifetime Achievement Award: Patrick Lannan (1938-2022) and the Lannan Foundation
Through the generosity of the Lannan Foundation and its team, Patrick Lannan gifted the Santa Fe community with countless world-class cultural experiences and firsthand dialogue with award-winning authors and thinkers. By inviting and supporting astounding creative leaders as well as innovative new voices in literature, poetry, visual arts, cultural freedom, and indigenous issues, Patrick's vision for cultural connection was bold, ambitious, and fearless. As he quietly created a hub in Santa Fe to support artists across the globe, he established a legacy that allows the global community to see the world through a different lens and enhance understanding in unexpected ways. We honor and salute Mr. Lannan posthumously for his immeasurable contributions to Santa Fe and the world with the Inaugural Lifetime Achievement Award.
---