The OAH oversaw the expenditure of $6,535,184.38 in housing funding in FY 2022-23! Funding from the American Rescue Plan Act (ARPA), CARES Act, Community Development Block Grant, and Affordable Housing Trust Fund supported services and resources for low and moderate-income Santa Feans.
Click here to download the infographic or read below for details.
---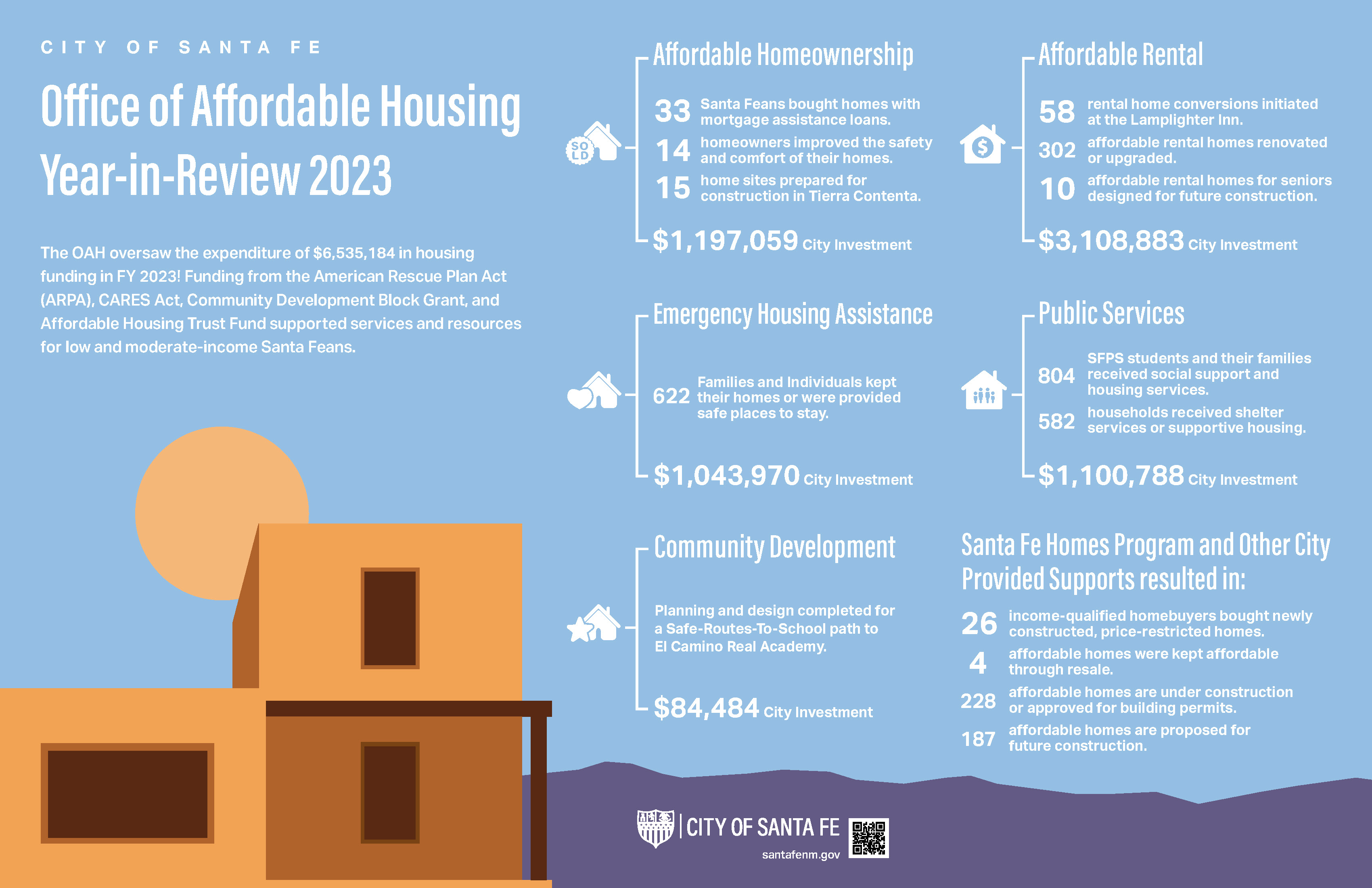 Affordable Homeownership
---
33 Santa Feans bought homes with mortgage assistance loans
14 homeowners improved the safety and comfort of their homes
15 home sites prepared for construction in Tierra Contenta
City's Investment: $1,197,058.61
Affordable Rental
---
58 rental home conversions initiated at the Lamplighter Inn
360 affordable rental homes renovated or upgraded
10 affordable rental homes for seniors designed for future construction
City's Investment: $3,108,882.80
Emergency Housing Assistance
---
622 Families and Individuals kept their homes or were provided safe places to stay.
City's Investment: $1,043,970.37
Public Services
---
804 SFPS students and their families received social support and housing services
582 households received shelter services or supportive housing
City's Investment: $1,100,788.17
Community Development
---
Planning and design completed for a Safe-Routes-To-School path to El Camino Real Academy.
City's Investment: $84,484.43
Santa Fe Homes Program and Other City-Provided Supports resulted in:
26 income-qualified homebuyers bought newly constructed, price-restricted homes
4 affordable homes were kept affordable through resale
228 affordable homes are under construction or approved for building permits
187 affordable homes are proposed for future construction
Office of Affordable Housing Funding Sources and Process
---
The Office of Affordable Housing administers a range of funding sources, including one-time allocations, such as funds from State Capital Outlay, the American Rescue Plan Act, and the CARES Act. However, the primary funding streams that the Office of Affordable Housing oversees are the Community Development Block Grant and Affordable Housing Trust Fund, which provide meaningful funding for housing and homeless services every year.
The City of Santa Fe is classified as Community Development Block Grant (CDBG) entitlement community by the US Department of Housing and Urban Development (HUD). A CDBG entitlement community refers to a municipality or local government that is eligible to receive formula grants through the CDBG program administered by HUD. The CDBG program is aimed at providing financial assistance to communities for various community development and housing activities, primarily to benefit low- and moderate-income individuals and neighborhoods.
The use of CDBG funds is restricted to primarily benefit low- and moderate-income (LMI) people who do not earn more than 80% of the Area Median Income (AMI) for Santa Fe. The AMI is established by HUD annually for every jurisdiction in the country and used as a basis for housing subsidy qualification in all HUD programs. Twenty percent (20%) of the annual grant allocation is reserved for program administration as permitted by HUD (approximately $120,000). Funding for public service programs that support LMI households is also capped at 15% of the annual grant allocation (approx. $90,000).
The planning and reporting timeline for CDBG funds is regulated by HUD to ensure compliance with federal CDBG regulations. Every five years, a planning document called the Consolidated Plan is required by HUD to provide an updated analysis of community development needs and to establish the highest funding priorities in the entitlement community for the next five years. Prior to the release of funds, an Annual Action Plan is submitted to HUD that describes the selected funding allocations for the upcoming program year relative to the Consolidated Plan framework. At the end of the program year, the Consolidated Annual Performance Evaluation Report (CAPER) is submitted to HUD, which describes how goals were met based on the expenditures for the prior program year relative to the Consolidated Plan framework.
AHTF Funds can be used to benefit low- and moderate-income individuals whose incomes are less than 120% of the AMI for Santa Fe. The use of trust funds is regulated through the City of Santa Fe's municipal code (SFCC 26-3) and is reported annually to the New Mexico Mortgage Finance Authority (NMMFA) to ensure compliance with the New Mexico Affordable Housing Act (the "Act"). The Act enables governmental jurisdictions to donate public resources (cash, land, buildings, and infrastructure) in support of affordable housing. Eligible activities include construction, renovation/conversion, infrastructure, or costs associated with the acquisition, development, construction, financing, operation, or owning affordable housing.
In contrast to CDBG, which is entitled to the City annually, AHTF is funded through development revenues, certain land sales, and the payoffs of City-held liens. Funds are only released when the balance is adequate enough to support an allocation. Dedicated sources of revenue for the AHTF include a portion (35%) of the payments from land sales in Tierra Contenta; proceeds from loans made with CIP funds for infrastructure; sales proceeds from transfers of lien-restricted homes (created under the Housing Opportunity Program and the Santa Fe Homes Program); in-lieu or fractional payments received by developers; and other funds that may be identified which are suitable and appropriate for allocation into the AHTF. In recent years, the Governing Body has budgeted additional funds for the AHTF to make the total amount available $3 million.
Like CDBG, funds are allocated to subrecipients who provide the services directly to income-certified renters, homebuyers, and homeowners. The AHTF allocation follows the same timeframe as CDBG so that the funds can be co-mingled to widen the support available through a single program. For instance, downpayment assistance can be provided through CDBG for homebuyers earning less than 80%AMI, and AHTF can be used for those earning up to 120%AMI.
The Office of Affordable Housing issues two Request for Applications (RFA) each year – one for CDBG and one for AHTF. The application and selection process begins in January or February. Public notices are run in the New Mexican announcing the availability of funding and the application schedule. In February, a pre-application technical assistance training is held with potential applicants to discuss the overall requirements of CDBG and AHTF. Potential applicants can ask questions about their proposed projects and receive guidance. Any follow-up questions will be answered and posted on the Office of Affordable Housing website so all applicants can have access to the information.
Application packets are due at the end of February. The Community Development Commission (CDC) reviews all applications, and the applicants are required to present their applications to the CDC at an annual all-day meeting at the beginning of March. During this meeting, the CDC enters into an Executive Session to deliberate and make funding recommendations based on established criteria and funding available. The CDC's funding recommendations are then approved by the City Council. Additionally, HUD approves proposed projects funded by CDBG through the Annual Action Plan.