Lee Garcia
District 3 Councilor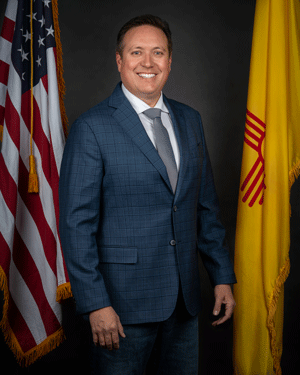 Lee A. Garcia is a 20-year resident of Santa Fe's District 3 and was elected to the governing body on November 2, 2021. His primary goal is to provide strong leadership and bring people together to get things done for the highly desirable District 3 corridors.
A successful business owner, Councilor Garcia has managed his family business, Garcia Tire LLC since 1999, and in 2018 purchased three locations. He earned a master's degree in business administration from the University of Phoenix in 2006, and an undergraduate business degree from New Mexico Highlands University in 1998. Lee was a four-year collegiate cross-country athlete at New Mexico Highlands University.
A fervent advocate for being involved and participating in his community, Councilor Garcia served four years on the City of Santa Fe Planning Commission and served as the chairman of the summary subcommittee. He is an active member of the Las Vegas (NM) Hispano Chamber of Commerce and has been a 20-year member of the Knights of Columbus. He is currently a fourth-degree Knight of Columbus and has served as a past Grand Knight and former District Deputy overseeing six councils. He is a member of the confraternity Los Hermanos Penitentes since 2013. He and his family are parishioners of the Santa Maria de la Paz Catholic Community. The councilor has also served as a basketball, t-ball, and soccer coach, a confirmation teacher, and has been a member of multiple organizations and clubs at Santo Nino Regional Catholic School and St. Michael's High School.
Lee is a dedicated husband, and a proud father of two college students, and two shelter dogs.
200 Lincoln Ave
P.O. Box 909
Santa Fe, NM 87504