Jamie Cassutt
District 4 Councilor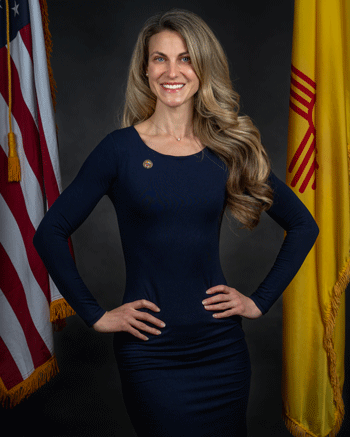 Jamie Cassutt was raised in Santa Fe and educated in Santa Fe's public schools, graduating from Santa Fe High School in 2003. Jamie has always recognized and appreciated the profound influence growing up in Santa Fe had on her perspectives and values. After spending over a decade on the West Coast for higher education and to gain experience in the public health field, she returned to Santa Fe to raise her son in her home community which is so rich in history, diversity, the arts, and nature.
Jamie obtained a Bachelor's degree in psychology from Lewis & Clark College in Portland, Oregon, and a Master's in Public Health from UCLA. Jamie has worked as a School Wellness Coordinator on the front lines of the battle against childhood obesity and diabetes. She also coordinated a Rady Children's Hospital program that provided health education and literacy promotion while addressing childhood trauma for homeless and low-income families with young children. It was these professional experiences that motivated Jamie to pursue work as a policymaker in order to address social and public health issues through changing policies, systems, and environments.
As a public health professional, Jamie views all public policy as healthy policy because every decision made at City Hall impacts the physical, emotional, and financial well-being of individuals and the community. As City Councilor, she is committed to working for the welfare of all Santa Feans to ensure that the City Different remains a place where families of all social backgrounds and economic means can live and thrive.
200 Lincoln Ave
P.O. Box 909
Santa Fe, NM 87504