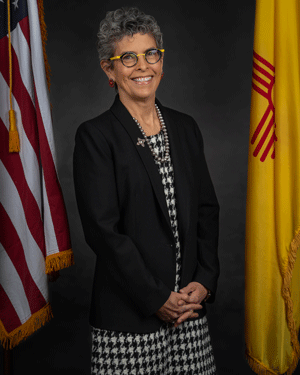 Carol Romero-Wirth
District 2 Councilor
cromero-wirth@santafenm.gov
200 Lincoln Ave
P.O. Box 909
Santa Fe, NM 87504
Ph: (505) 955-6815
Fax: (505) 955-6683
Office Hours
By Appointment
Carol Romero-Wirth is serving her first term as a Santa Fe City Councilor. She won a three-way race with 53% of the vote in her first run for public office.
Carol's New Mexico roots go back generations from Mora, New Mexico. She grew up in Colorado and graduated from Colorado College with a bachelor's degree in Political Science. Carol holds a master's degree in Public Policy from the Lyndon B. Johnson School of Public Affairs at the University of Texas in Austin. Her law degree is from the University of New Mexico. She was admitted to the New Mexico Bar in 1998.
Over the last thirty years Carol's work has focused in public policy, government and politics. She served as a commissioner on the City Charter Review Commission, was the first associate director at Think New Mexico, and she has also worked as a public policy consultant on water, environment and sustainability projects. In addition, she worked for the New Mexico Legislature as a bill drafter and professional staff at the Legislative Council Service.
Carol has been active in the Santa Fe community serving on many non-profit boards including the Santa Fe Community Foundation, Literacy Volunteers of Santa Fe, the Wood Gormley Elementary School PTC, Breakthrough Santa Fe, Santa Fe Prep School and the Santa Fe Chamber Music Festival.
Carol and her husband, Peter, raised two children in Santa Fe.
---
Committee Assignment
Chair, Quality of Life Committee
Chair, Water Conservation Committee
Vice Chair, Buckman Direct Diversion Board
Member, Finance Committee
Director, New Mexico Municipal League Board
Member, Northern Area Local Workforce Development Board
Governing Body Parliamentarian
Former Chair and Member, Santa Fe Metropolitan Planning Organization
Former Member, North Central Regional Transportation District Board