MISSION
It is the mission of the Santa Fe Police Recruiting Division to actively recruit the highest quality of persons in an attempt to commission qualified, exceptional, and highly motivated individuals who wish to serve their community. Recruitment is conducted in a professional unbiased manner with consideration to the applicant and his/her ability to successfully adhere to the standards and requirements set by the Department with respect to the oath of office taken by each member.
CORE VALUES
Honesty, Integrity, Service!
SFPD is offering a $1,000 hiring bonus to new cadets and $3,000 to lateral officers who join SFPD. Lateral officers will also receive 160 hours of leave!!!
Tests begin at 8 AM at the Santa Fe Police Headquarters at 2515 Camino Entrada.
Be sure to bring PT gear and proper attire for an interview.
Our upcoming test dates are:
August 8, 2020
To officially apply go to: sfpdonline.com
Attention Cadet Applicants:
Bring your PT gear with you and proper attire for an interview. Testing starts promptly at 8 A.M. at the Police Station... 2515 Camino Entrada
When you show up for the test date please bring your high school diploma or equivalent and your driver's license.
All lateral applicants requesting special testing must make arrangements with the recruiting officer listed below. You will need all items listed in the recruiting packet which can be downloaded on this site.
Stay Connected
Find SFPD on Facebook, Twitter and YouTube.
The New Mexico Law Enforcement Academy
For more information about accreditation, training, schedules, and requirements, please visit the official NMLEA website:
Recruiting Officer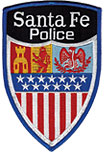 Sergeant Blake Byford
2515 Camino Entrada
Santa Fe, NM 87507