Mission
The members of the Traffic Unit are committed to ensuring the safe and efficient movement of vehicles, motorcycles, bicycles and pedestrians within the City of Santa Fe. We accomplish this through community partnership, public education, thorough investigations and the proactive enforcement of violations in a fair, consistent and courteous manner.
Traffic/Motor Unit
The Santa Fe Police Traffic Unit consists of a Sergeant, four full time Motorcycle/Traffic Officers, three auxiliary Motorcycle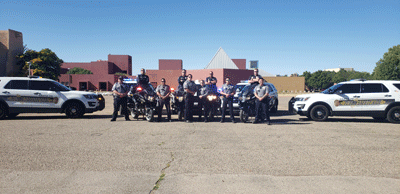 Officers, six auxiliary crash reconstructionist/investigators and nine Public Safety Aides. The Units primary responsibility is responding to and investigating motor vehicle crashes as well as conducting proactive traffic law enforcement.
An additional primary function of the Traffic Unit is special events. From Zozobra and Fiestas to parades and 5k runs, the men and women of the Traffic Unit are there to make sure the participants of those events stay safe. Our Traffic Team members are highly trained in escort procedures and traffic control.
Public Safety Aide/Police Service Aide
Our Public Safety Aides work side by side with the Traffic Officers during crash investigations and during special events. They also often assist with traffic enforcement operations. When not doing that, they are often found assisting the citizens of Santa Fe with traffic related issues such as flat tires and stalled vehicles. The Public Safety Aides are instrumental in the operation of our Traffic Calming program. This includes conducting traffic behavior surveys, the placement of electronic traffic monitoring equipment and radar devices.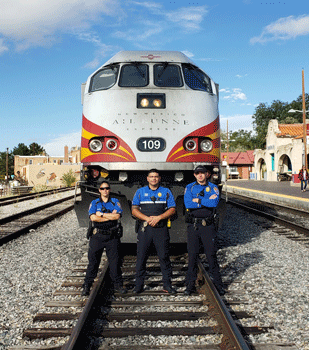 Bike Unit
The Santa Fe Police Department Bike Patrol Unit is a specialty unit that primarily utilizes specially designed bicycles to allow for patrolling under unique circumstances.
Special Functions: The Bike Patrol Unit is used in parades, high crime areas, routine patrol, special events, bike paths, parks and criminal law enforcement, bike rodeos, and bike safety education.
Goals: The goal of the Bike Patrol Unit is to create a balance between community policing and proactive Law Enforcement in order create a safe environment for our tourist and our local community. Using the bicycle is a great tool to interact with the community in a positive manner, but also is very effective in crime reduction. As the Sergeant of the Bike Patrol unit it is my goal to expand the education of bike safety to children and adults and be more approachable to all citizens."
Training: Each member of the Santa Fe Police Department Bike Patrol Unit must complete a 40 hour bike school certified by IPMBA (International Police Mountain Bike Association). Santa Fe Police officers learn about low and high speed biking, road hazards, obstacle clearing, how to avoid common crashes, and how to make rolling apprehensions. On any given day, bike officers may ride an average of 15 to 40 miles.
Safety: Each member of the Santa Fe Police Department Bike Patrol Unit is equipped with all necessary safety equipment. This includes, but is not limited to: bike helmets, front and rear lights, bells/Siren, and pedal retention devices. Santa Fe Police Department Bike Patrol Officers practice the ABC Quick-Check before hitting the road.
A– Air: tire pressure up? (Look for the right pressure on the side of the tire)
B – Brakes: firm grip, secure pads?
C – Crank: turning smoothly?
These same steps can be utilized by any person learning to ride a bicycle.
Remember to always be aware of your surroundings and wear your helmet while riding
OVERSIZED LOAD PERMITS:
Oversized Load Permits
---
Support Operations
Captain Anthony Tapia
(505) 955-5286
Lieutenant Jose Gonzales
(505)-955-5231
Sergeant John DeBaca
505-955-5324
Sergeant James Plummer
(505) 955-5687
jjplummer@santafenm.gov
Sergeant John Garcia
505-955-5691
Supervisor Ken Lowrie
505-955-5031