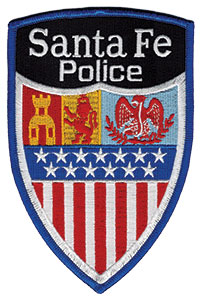 It shall be the mission of the Santa Fe Police Department Patrol Section to provide Santa Fe residents and guests with a safe environment in which to live, work, and visit through professional service and quality policing. We will endeavor to foster open communication, mutual respect, absolute trust, integrity, and justice within our community by working together to prevent, reduce, and combat crime and illegal activity.
The Patrol Section is the backbone of department operations. It is the largest section and the most visible of the three sections. It is comprised of three Patrol Teams, providing 24-hour/7 days a week coverage.
The officers' primary duty assigned to the Patrol Section is to respond to calls for assistance. They also conduct preliminary investigations, investigate traffic accidents, and enforce traffic and criminal codes. Patrol officers typically are first responders to emergencies. In addition, Patrol personnel serves a crime prevention and deterrence role while on routine patrol in one of the nine patrol areas, encompassing 37.4 square miles and serving a population of 89,922 (2019).
Resources
---
Online Reporting
---
File a non-emergency police report using the SFPD Citizens Online Police Reporting System.