Contact the Environmental Services Division
---
1142 Siler Road
Building A
Santa Fe, NM, 87504
Hours
---
Monday - Friday
8:00 a.m. - 5:00 p.m.
Residential Collection
---
Recycle Coach for residential customers
Use the app below to find out your collection schedule and requirements! You can also download the app on your smartphone to receive notifications, report problems, and access collections information at any time!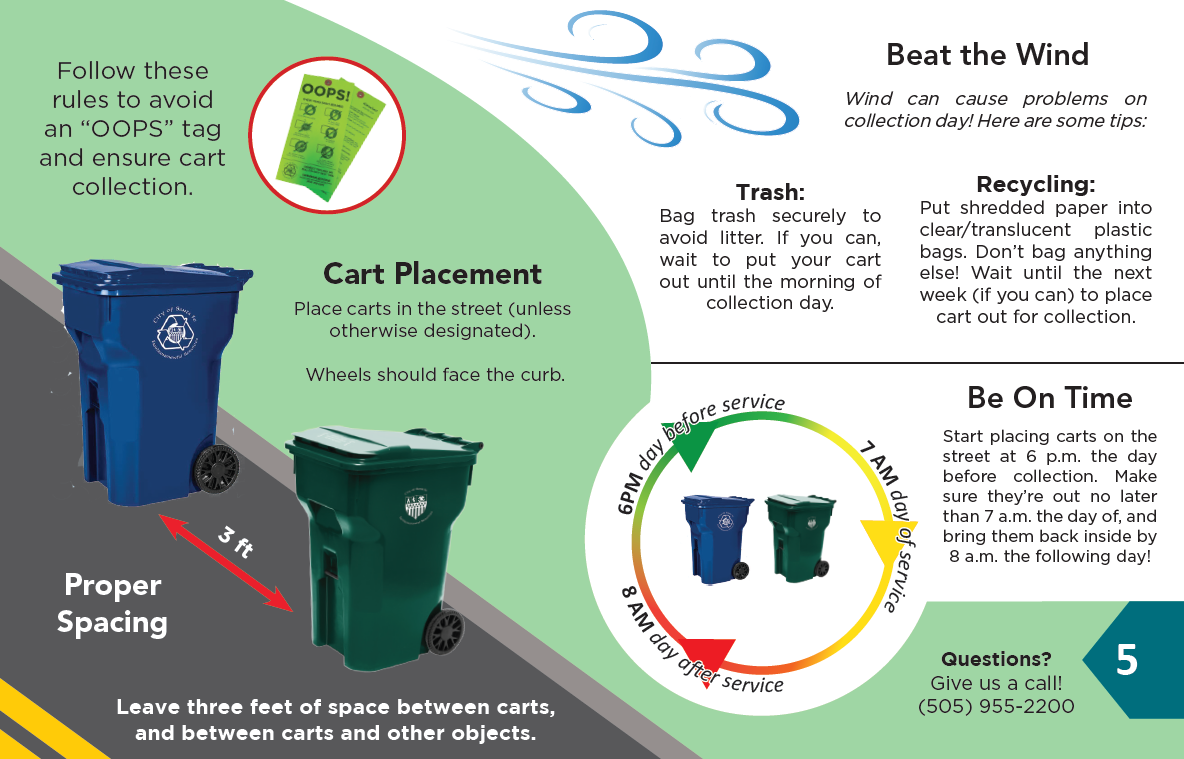 Place trash and recycling carts on the curb by 7:00 a.m. on your collection day.
Carts may be placed on the curb as early as 6:00 p.m. the day before and must be removed by 8:00 a.m. the day following your collection day.
Carts must be placed with wheels facing the curb – carts with wheels facing toward the street cannot be collected.
Cart lids must be closed. Overflowing carts can not be collected.
Containers that are not provided by the City can not be collected.
Missed Service
---
If ESD did not collect your trash on schedule, please ensure that it was out by 7:00 a.m., that it was not blocked or overflowing, and that the cart did not contain unacceptable items. NOTE: If you did not set your cart out before the collection truck came by, that is NOT a missed service; we have real-time GPS applications that confirm the time of collection for each address. Please pull your cart back in, and we will see you next week!
If we did miss you, and none of these conditions apply, call 505-955-2200 or click here to use our electronic reporting system.
Residential Collection Rates
---
The cost of basic residential curbside service is $20.21 with tax per month, which includes tax and is included in your City of Santa Fe monthly utility bill.
Residential refuse and recycling collection is provided weekly using City-issued rolling carts. Each residence receives one 65- or 95-gallon green trash cart and one 65-gallon blue recycling cart. A larger recycling cart may be provided upon request, or one additional recycling cart may be provided with no extra fees. Residents may order additional trash carts and additional fees apply to trash. Carts are collected using an automated truck. Drivers do not typically exit the vehicle.
Eligibility for Reduced Rates
---
Low-income residents may qualify for reduced rates for residential utility charges. Click here for more information and to apply for a rate reduction.
Special Assistance
---
Elder persons or persons with restricted mobility, which renders them unable to place trash and recyclables curbside, may be eligible for special assistance from the Environmental Services Division. This service may include entry onto private property or into residential units to remove waste from porches, portals, or garages.
Persons requesting this service must provide a Medical Certificate that verifies the disability and a Release of Liability authorizing Environmental Services staff to enter and/or access private property. There is no additional fee for this service.
To apply for Special Assistance, download, print, complete, and return the following Forms to the Environmental Services Division, 1142 Siler Road.
Large Item Pickup & Bag Tags
---
Click for information about bulky items and bag tags for extra trash.