The City of Santa Fe has a diverse water supply portfolio with four water sources and an active reclaimed water program. These four sources include local surface water and groundwater, as well as imported surface water and groundwater from outside of the Santa Fe River Watershed, currently providing the City between 8,000 and 9,000 acre-feet of water per year.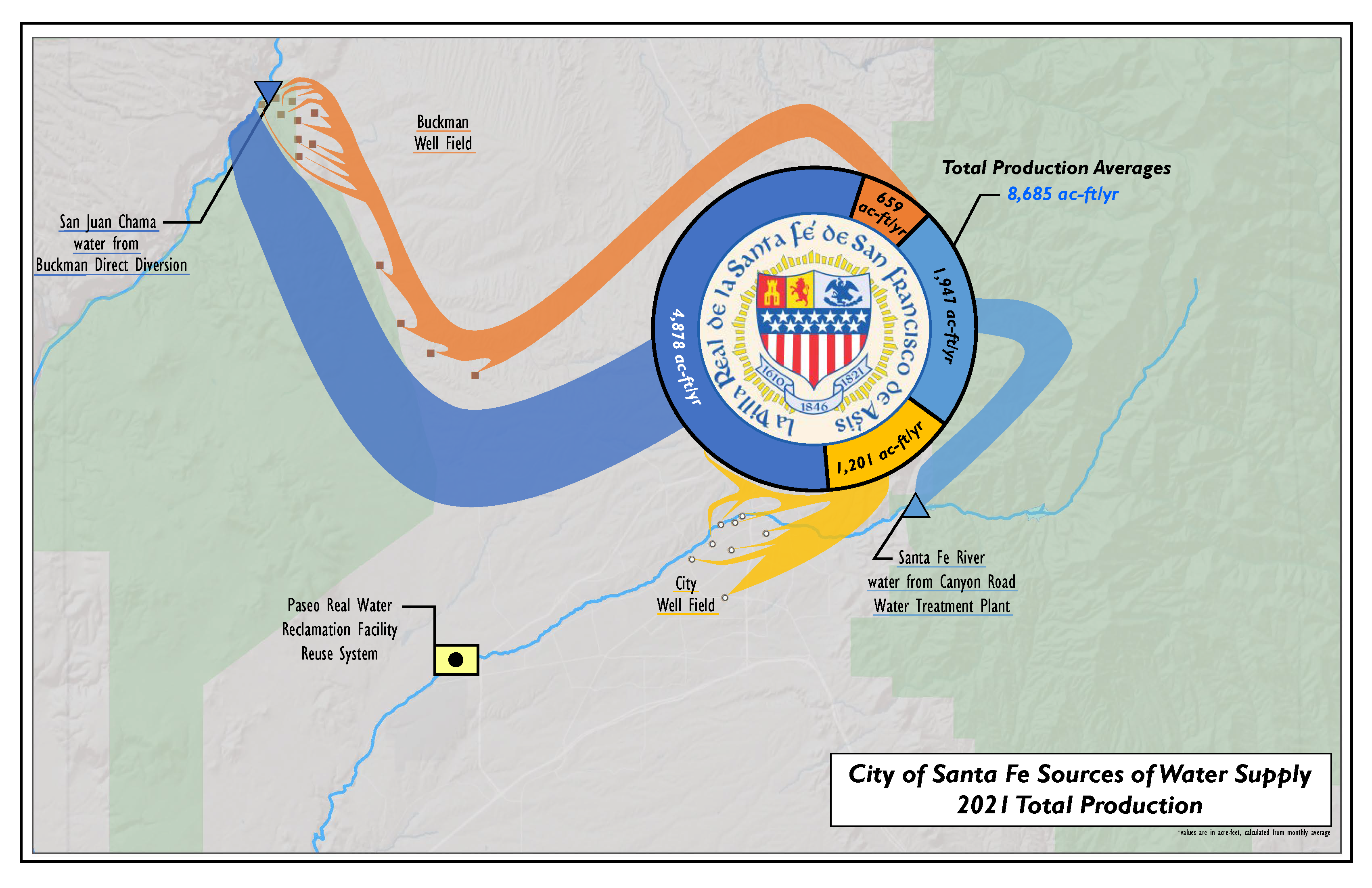 City of Santa Fe Water Supply Sources
---
Santa Fe River (local surface water)
Santa Fe City Wells (local, groundwater)
Buckman Well Field (imported, groundwater)
Buckman Direct Diversion (imported, surface water)
Reclaimed Water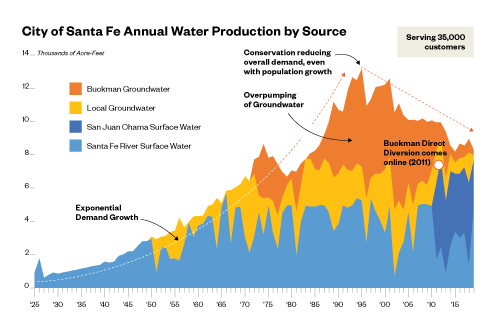 Using Water Supplies Strategically
---
The City of Santa Fe Water prioritizes using surface water when available to preserve groundwater for when it's not. This strategy, coupled with a steady reduction in annual demand since 1995 and the beginning of water production from the Buckman Direct Diversion in 2011, has allowed our groundwater aquifers to recover from excessive pumping so they can sustain our supply in the event of drought or other potential interruptions. If surface water suddenly became unavailable, groundwater could meet the City's current full demand for days, months, or even years.
City of Santa Fe Water uses a science-based, community-informed planning process to ensure that water supplies are available and sustainable for our needs for decades. We are currently partnering with Santa Fe County to develop long-range water resource plans to the year 2100. These plans are flexible and can be adjusted at any time if conditions require it, giving us the ability to respond to unexpected events.

Leaders In Conservation Thanks To You
---
Since 1995 we have seen a steady reduction in annual demand—even with significant population growth—due to the community's conservation efforts. We are proud to have one of the country's lowest per-capita water usage rates. You've played a key role in developing this water efficiency, and we will continue to rely on you for water-wise decisions today and in the future. While City of Santa Fe Water will continue to plan for the long term, you can make an impact by rethinking how you use water indoors and outdoors.
Conserving water is the most direct way to ensure it's available in the future. It is much less expensive than buying new water sources and building the infrastructure to deliver it. Learn more about how to use water wisely by visiting Save Water Santa Fe.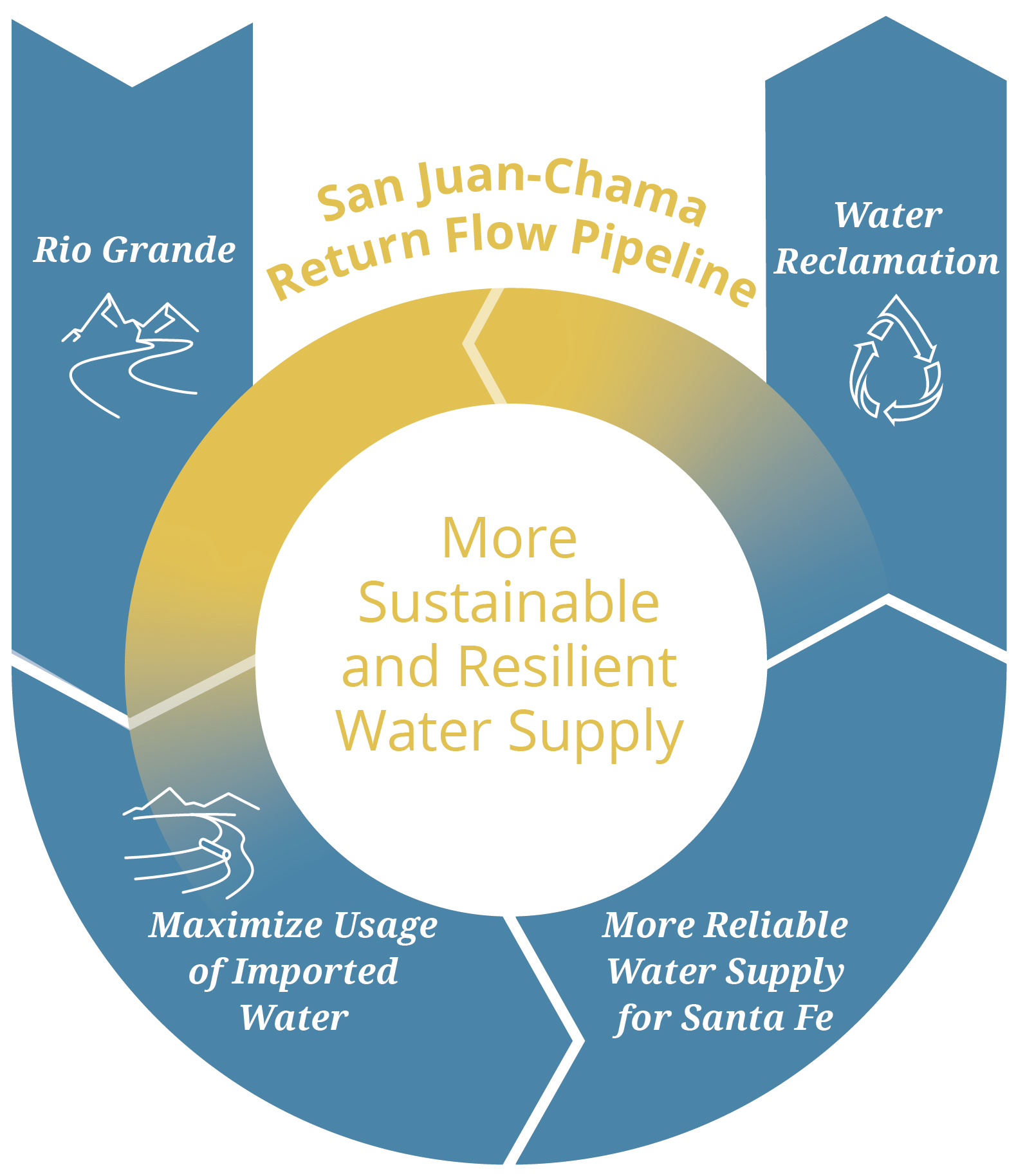 Reclaimed Water
---
Realizing that all water has value, we have used non-potable reclaimed water for irrigation and other purposes for decades. Reclaimed water is a locally controlled resource resilient to droughts, wildfires, and other supply interruptions. Click Here to learn more about how we use reclaimed water.