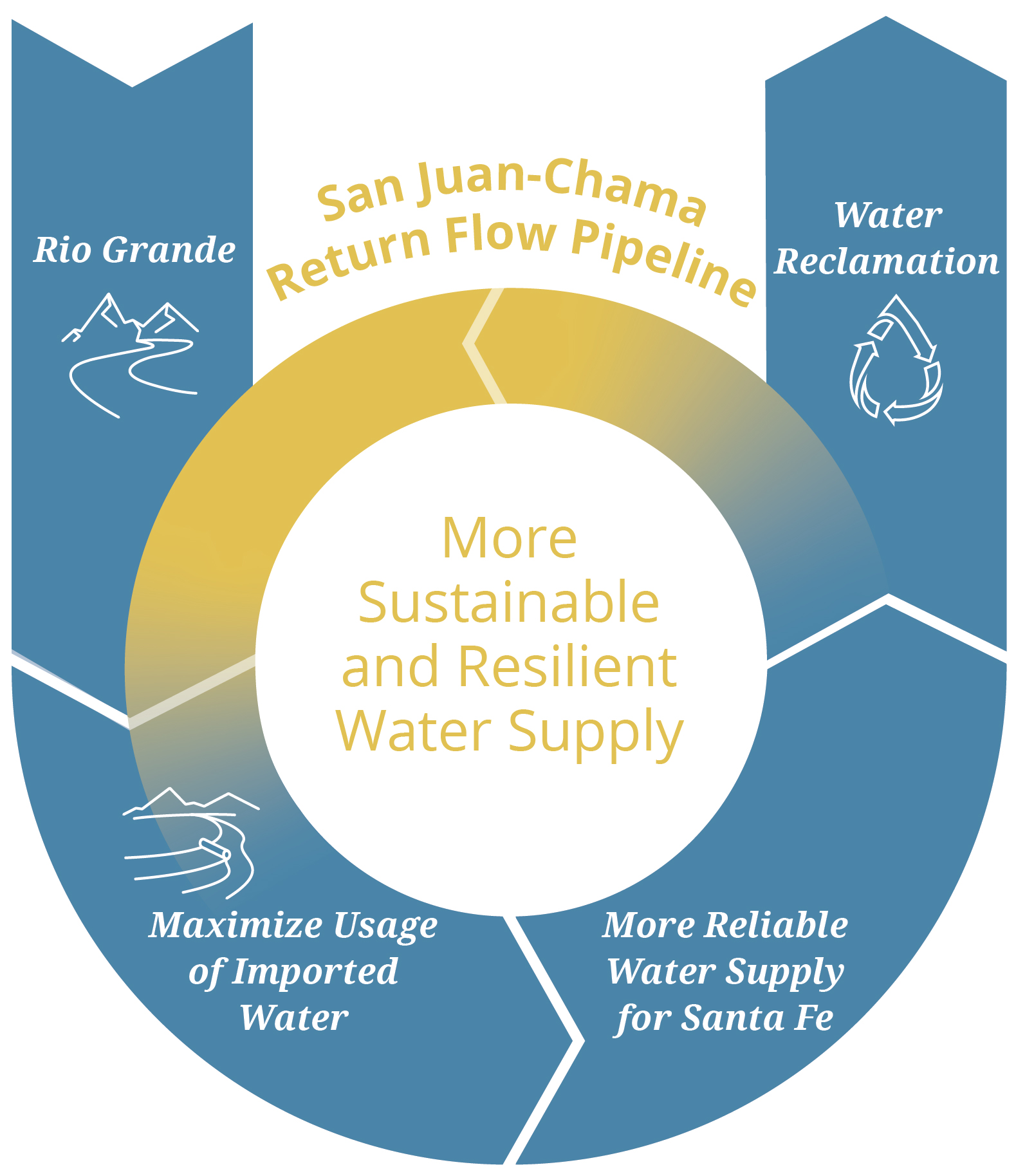 A Smart Investment in Our Water Future
What is the San Juan-Chama Return Flow Pipeline?
The San Juan-Chama Return Flow Pipeline is a proposed 17-mile pipeline that will return treated, unconsumed San Juan-Chama water back to the Rio Grande. This will allow us to withdraw more water using the Buckman Direct Diversion, effectively doubling our supply of renewable imported surface water without affecting native Rio Grande flows. It will reduce withdrawals from our groundwater aquifers (allowing them to recharge), increase resiliency to climate change, drought, and wildfires, and help meet the projected future growth in demand.

How the Pipeline Works
The map below shows where water is currently diverted from the Rio Grande via the Buckman Direct Diversion (BDD). It then heads south to the Buckman Direct Diversion Water Treatment Plant for treatment before being distributed throughout the City. Unconsumed water (typically from indoor use, e.g. showers, toilets, sinks) is collected through the sewer systems and sent to the Paseo Real Water Reclamation Facility where it is treated to meet all state and federal standards.
The pipeline will take unconsumed San Juan-Chama water from the facility and discharge it into the Rio Grande just downstream of the BDD. Contingent on conversations and permit applications either currently underway, or planned for the near future, the returned water will be used by San Juan-Chama user(s) downstream in exchange for a paper transfer into our upstream reservoir storage account, or be counted as a return flow credit so that the same withdrawal from the BDD can occur with a smaller release from upstream reservoirs. Reclaimed water from sources other than BDD will continue to be used for non-potable irrigation and discharge to the lower Santa Fe River.
A strict accounting of the amount of water diverted at the BDD and the amount returned through the San Juan-Chama Return Flow Pipeline will ensure that there is no impact to native surface water flows in the Rio Grande and that only unconsumed San Juan-Chama water is returned for use downstream or return flow credits.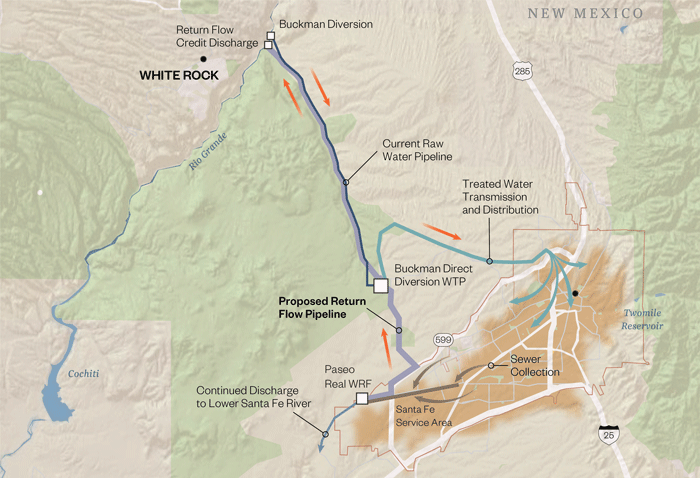 Why Do We Need the Pipeline?
In Santa Fe, our water supply portfolio includes four sources of water, a mix of surface and groundwater. In a normal year, none of those four sources are fully, consistently available at the permitted amount, but together they typically provide enough to meet demand. Common vulnerabilities such as wildfire, water quality, and drought – all of which are predicted to increase with climate change – reduce available water supplies even further and are projected to lead to significant shortages by the 2050s if we take no action.
Studies Point to Pipeline
Since the 1980s, many long-range planning and wastewater reuse studies have recommended "return flow credits" as the best use of reclaimed water in Santa Fe. For the past 90 years, many of the City's water planning decisions have been forced by impending water shortages, with most being made during or directly after extended droughts. Our understanding of the vulnerabilities of our water supply portfolio has never been better than it is today, and the pipeline is a proactive (rather than reactive) way to reduce our vulnerabilities and meet future needs.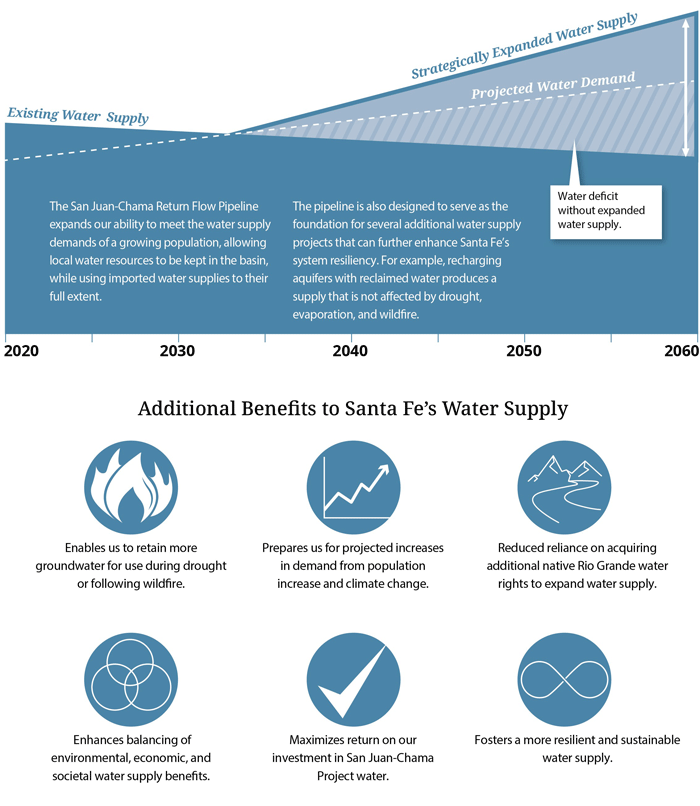 Where Can I Learn More?
To learn more about Santa Fe's history of reuse and the part the San Juan-Chama Return Pipeline plays in it, check out the interactive timeline on Using Reclaimed Water. Fact sheets, FAQs, reports, and studies related to the pipeline can be found below, along with related news articles.
Fact Sheets and FAQs for the Community
Recent Studies and Reports
Related News