Are you a community member affected by the COVID-19 crisis? Are you looking for food, housing, transportation, or other help? CONNECT navigators can help you find services and resources in the community.
¿Eres un miembro de la comunidad afectado por la crisis COVID-19? ¿Estás buscando comida, vivienda, transporte u otra ayuda?Navegadores/Promotores del programa CONNECT, pueden ayudarte a encontrar servicios y recursos dentro de la comunidad.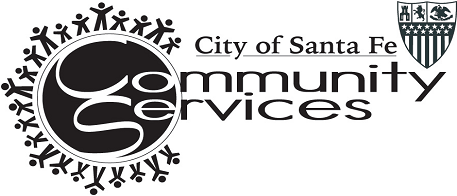 Department Mission
The Community Services Department holds the vision that all people in Santa Fe be connected to the resources they need to thrive. Our mission is to provide a broad spectrum of activities and to support and engage the community, especially those most in need, creating programs and policies to improve quality of life.
While each division can stand alone in the services and programs it offers, all divisions align to adopt an underlying strategy of addressing the social determinants of health—access to health and behavioral health care, housing, food, transportation, personal safety, education, childcare, physical activity, social supports, and employment—that make up the foundation of health and wellbeing. The Department enacts its strategy via direct services, impact funding of non-profit partners in the community, and recommendations for policy change put forth by committees and task forces. As a team, our core values are compassion, effectiveness, trust, fairness, service, and innovation.
Description of Services
The Community Services Department is comprised of three divisions—Libraries, Senior Services, and Youth and Family Services—and the Office of the Public Defender. Administration consists of the Director, Office Manager, and Administrative Assistant. We provide an array of direct and indirect services and support community engagement by staffing community boards, committees, and task forces.
One hundred forty-three year-round employees and 93 summer employees provide services to residents of Santa Fe and surrounding areas, including out-of-state visitors to our libraries. Additionally, through our partnerships with community-based organizations, we indirectly serve pregnant women, young children, families, and adults of all ages with behavioral health, educational, and safety net services. We staff five committees, three boards, and task forces as needed, engaging over 50 volunteer-appointed members in impacting services and policies that impact our population, including youth, immigrants, veterans, and seniors.
Divisions
Office of the Public Defender
CONNECT
CONNECT is a network of navigators at clinics, city and county programs, and community organizations that link people to services and resources in our community. Based on an Accountable Health Community model, CONNECT addresses the unmet, non-medical social needs of City and County residents by forging a stronger link between clinical care and community services. We aim to improve community health, increase the quality of care for individuals, and reduce healthcare costs to the system overall.
CONNECT navigators can help you find services and resources in the community. Click here to get help.
Navegadores del programa CONNECT, pueden ayudarte a encontrar servicios y recursos dentro de la Comunidad. HAZ CLIC aquí para obtener ayuda.
Department Weekly Committee Agendas
Children and Youth Commission
Human Services Committee
Immigration Committee
Mayor's Youth Advisory Board
Nutrition and Transportation Committee
RSVP Committee
Santa Fe Public Library Board
Division of Senior Services Senior Advisory Board of Directors
Veteran's Advisory Board
Women's Commission
Location, Phone numbers, and Hours
Physical Address
500 Market Street, Suite 200
Santa Fe, New Mexico 87501

Mailing Address
Post Office Box 909
Santa Fe, NM 87504-0909

Phone Numbers
Ph: 505-955-6913
Fx: 505-955-6760

Hours
Monday - Friday
8:00 a.m. - 5:00 p.m.
(closed 12:00 p.m. - 1:00 p.m.)