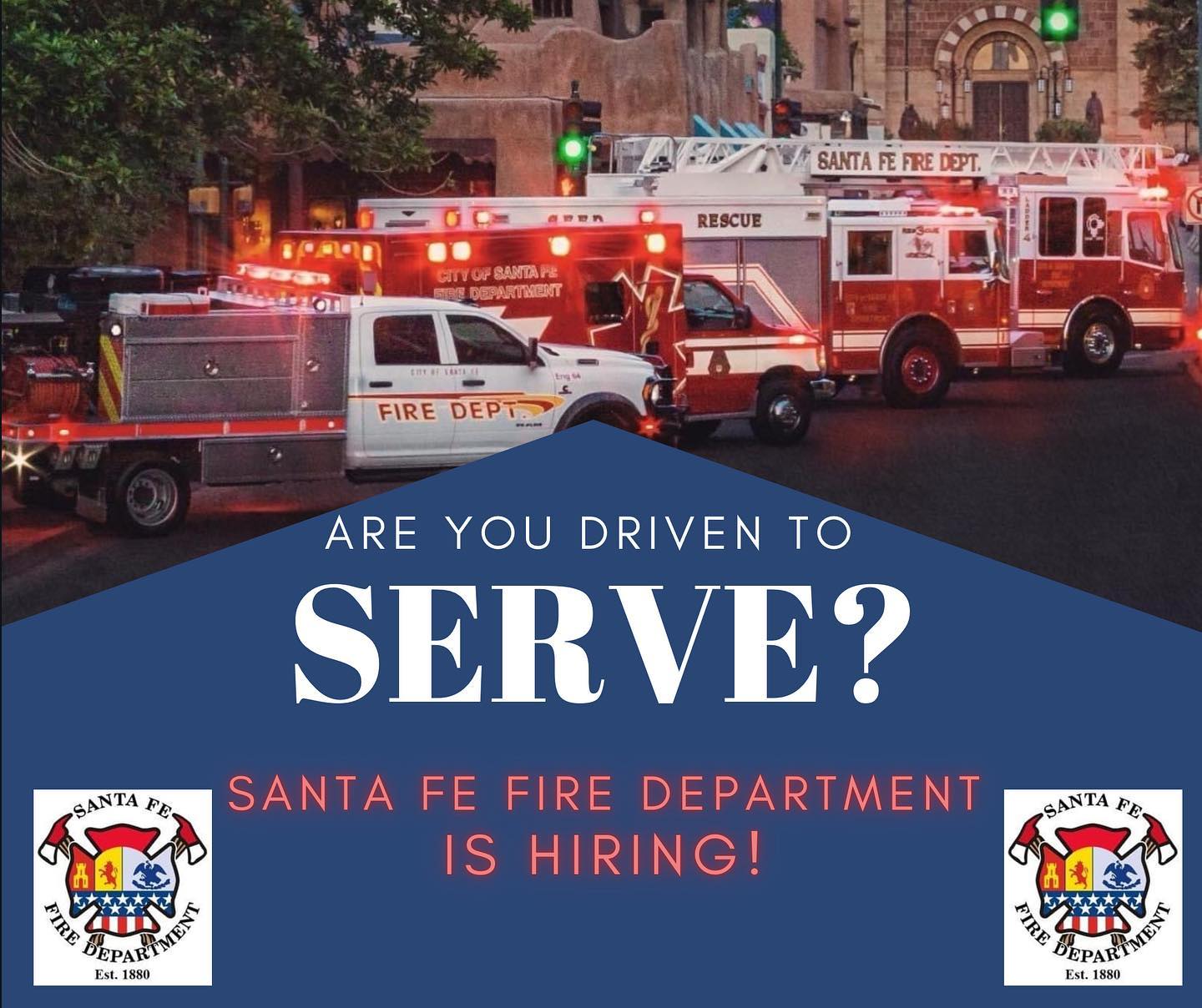 WE ARE NOW HIRING!
SFFD is the largest single-tier fire department in New Mexico and offers:
*GREAT HEALTH AND RETIREMENT BENEFITS
*EMS EDUCATIONAL OPPORTUNITIES AND SUPPORT
*AN ENVIRONMENT THAT SUPPORTS AND ENCOURAGES FIREFIGHTER FITNESS
*$1,000 HIRING BONUS
Apply to be part of the 35th Cadet Class on the City of Santa Fe Job Portal before October 15!
We also encourage all interested applicants to attend one of our FREE Info/Physical Ability Course Orientation sessions at Fire Station 5. You can sign up for those sessions by calling (505)955-3500.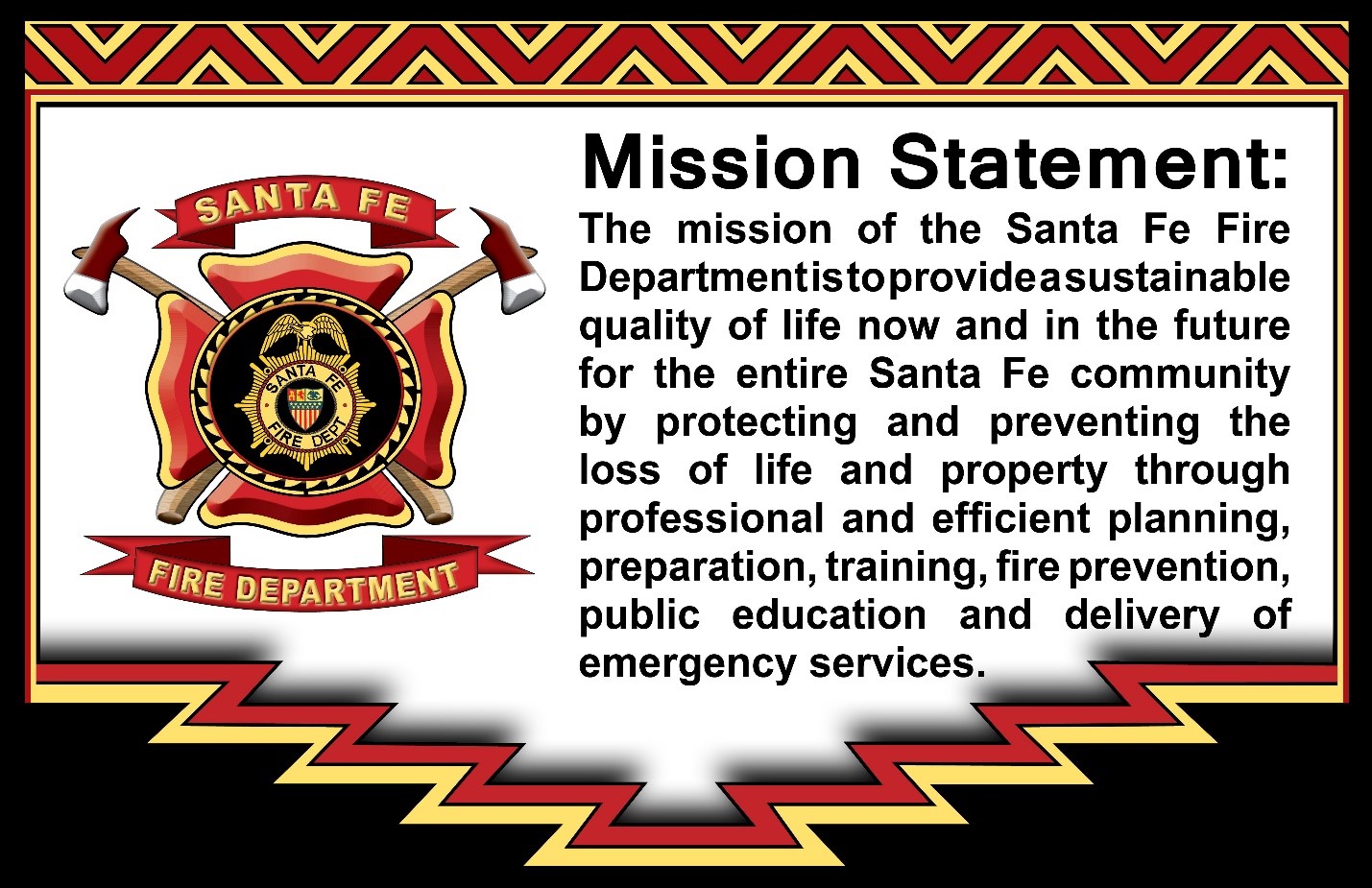 ABOUT SANTA FE FIRE DEPARTMENT
The City of Santa Fe Fire Department (SFFD) was established in 1880. The fire department started as a volunteer fire department, which slowly transitioned into a combination fire department; volunteer and career firefighters working together. And, again, transitioning into the full-time career fire department that it is now. Currently, there is a career staff of 195 personnel who provide services to the community; Chiefs, Operations Division, Support Division, Wildland, and Administrative personnel. There is currently six (6) staffed fire stations located throughout the city and our call volume ranges between 17,000-18,000 calls per year.
Members of the SFFD are trained for all-hazards emergency response. Essentially, the core functions of the SFFD focus on fire suppression, emergency medical response, hazardous materials response, technical rescue, aviation rescue, fire prevention, public outreach/education, and wildland preparedness planning and response. In addition, the fire department is growing with the community and focusing on Mobile Integrated Health - Community Paramedicine and Alternate Response models.
Location & Contact Information:
Santa Fe Fire Department Headquarters
PO Box 909 / 200 Murales Road
Santa Fe, New Mexico 87504
View Map »
Emergency: Dial 911
Non-emergency Dispatch: (505) 428-3730
FD Administration: (505) 955-3110
To schedule a fire inspection, please call (505) 955-3310
Stay Connected:
Find SFFD on Facebook, Twitter & Instagram
WUI Santa Fe Fire on Twitter @SFFDnewsWUI »
emergency alerts:
For preparedness information and updates during emergencies, stay connected with the City of Santa Fe's Emergency Mangement.
To view and apply for current job openings, visit the City of Santa Fe's Employment Opportunities Portal.
In order to apply for jobs using the City of Santa Fe's Emplyment Opportunities Portal, you will need to register for a new account. Please contact Human Resources at (505) 955-6513 should you have any questions or need assistance.