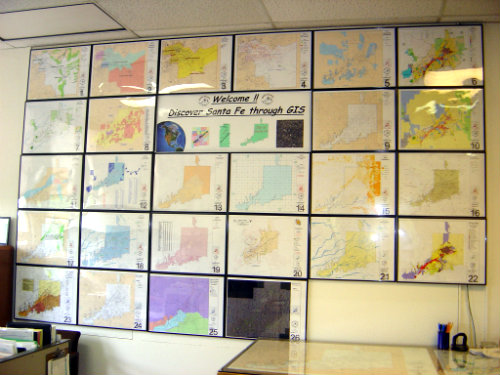 The City of Santa Fe is pleased to offer the following maps to the general public. Click on the map name, and a new window will open, downloading the requested map. Some maps are large files, and depending on your connection, the maps may load slowly.
---
Please read the following disclaimer before requesting a map download.
This web page is a public resource of general information. The City of Santa Fe makes no warranty, representation, or guarantee as to the content, accuracy, timeliness, or completeness of any of the spatial data or database information provided herein. The City of Santa Fe shall assume no liability for any errors, omissions, or inaccuracies in the information provided, regardless of how caused or any decision made or action taken or not taken by any person relying on any information or data furnished within.
---
Maps Available for Download and Printing
Annexation Map
Phase 2 Complete as of 12/31/2013 (refer to City Limits Map)
Phase 3
Phase 3 Area 1
Overlay Districts Maps
Archaeological Review Districts
Areas of Mountainous Difficult Terrain
Business Capitol District
Census 2000
Census 2010
City Council District Map
Council Districts and Voting Precincts
Escarpment Overlay Districts
Future Land Use
Historic Districts
Building Historic Status
Landmarks Building and Sites
Parks, Open Space, and Trails
Zoning
City Parks & Trails
Other Maps
Address Grid Map
City Bicycling Map
City Bus Routes
City-Owned Land & Facilities
City Limits & Roads
Control Network
Fire Districts
Hillshade Illumination
Major Arroyos
Neighborhood Associations
Police Districts & Beats
Residential Subdivisions
School Locations
Snow Removal Services Areas
Zip Codes
ITT/GIS Division
Office Location - 1600 St Michaels Dr. Bldg 24 (Mouton Hall) Santa Fe, NM 87505.
Hours 8:00 am-5:00 pm
505-955-6490 gis@ci.santa-fe.nm.us